by George J. Dance
The Toronto Mail was a newspaper in Toronto, Ontario, which through corporate mergers became first The Mail and Empire, and then The Globe and Mail.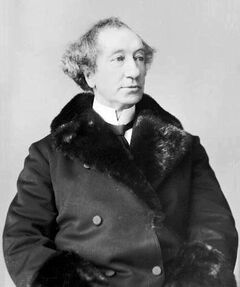 The Toronto Mail was founded in 1872 by John A. Macdonald, the Prime Minister of Canada and publishing rival of George Brown of The Globe. Macdonald and Brown had been political rivals in Canada West during the previous decade (although they had co-operated to achieve Canadian confederation). Macdonald had become Prime Minister of the new Dominion of Canada in 1867.
The first editor of the Mail was Charles Belford, hired in March 1872. Belford held the position until 1878.[1]
The Mail broke with the Conservative Party in the 1880's, which caused the Conservatives to found a rival Toronto newspaper, the Toronto Empire.[2]
After Macdonald's death in 1891, the Mail merged with the Empire to form the Mail & Empire in 1895. The Mail & Empire would in 1936 merge with Brown's Globe to form the Globe & Mail.
References
Edit
↑ H.P. Gundy, "Belford, Charles," Dictionary of Canadian Biography Online, Web, June 21, 2011.
↑ "Newspapers," Canadian Encyclopedia (Edmonton: Hurtig, 1988), 1493. Print.
External links
Edit
This is a signed article by User:George Dance. It may be edited for spelling errors or typos, but not for substantive content except by its author. If you have created a user name and verified your identity, provided you have set forth your credentials on your user page, you can add comments to the bottom of this article as peer review.
Ad blocker interference detected!
Wikia is a free-to-use site that makes money from advertising. We have a modified experience for viewers using ad blockers

Wikia is not accessible if you've made further modifications. Remove the custom ad blocker rule(s) and the page will load as expected.