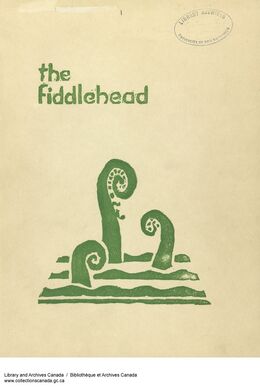 The Fiddlehead is a Canadian literary magazine, published four times a year at the University of New Brunswick (UNB) in Fredericton, New Brunswick. The magazine publishes poems, short stories, book reviews, and occasionally personal essays. In publication since 1945, it bills itself as "Canada's longest living literary journal."[1]
The Fiddlehead is named after the fiddlehead fern (or ostrich fern), which grows wild throughout New Brunswick and is considered a provincial food. The name was given to the magazine by its founder, Alfred Bailey, who "explained in the first issue [that] the magazine takes its name from a 'small plant that grows in the Saint John river valley in the spring, and which is said to be symbolic of the sun'."[2]
Alfred Bailey and the Bliss Carman Society
Edit
The Fiddlehead was begun in 1945 as a publication of the Bliss Carman Poetry Society, which Bailey had founded in 1940.[2] Bailey had become head of the UNB Department of History in 1938. A published poet, he sought to revive Fredericton's literary community in Fredericton, gathering fellow poets and writers at his home to share criticism and creative efforts. The result was The Bliss Carman Society, which Bailey described as "not really a society but my guests."[3]
Bailey kept copies of all the poems read at the meetings, and mimeographed copies of these that he distributed were what evolved into The Fiddlehead.[3] As he explained in the first issue that bore the name: "The poems contained herein are not 'published', but are brought together in this form as a record largely for private circulation among members of the Society and their friends."[2]
Early issues contained 10 or so poems, exclusively from Society members or their associates, printed on large mimeographed pages. A painting of a fiddlehead by UNB Art Director Lucy Jarvis appeared on every cover until 1967. A table of contents was added in issue #10, and a list of regular contributors (including Eleanor Belyea, Fred Cogswell, Donald Gammon (the first editor), Robert Gibbs, Robert Richards, and George Whalen) appeared in 1952.[2]
"During its early years," Cogswell later wrote, "the magazine reflected strongly both the poetic techniques of T.S. Eliot and W.B. Yeats and those masters' desire to fuse the present with the traditional past through the use of myth and symbol."[4]
Fred Cogswell's tenure
Edit
In 1952 Cogswell became a professor of English at UNB. That year he took over the editorship of The Fiddlehead, and served as its editor until 1966.[5] Under Cogswell's editorship the magazine "was converted to an international magazine of poetry and issued in a printed format.... it became a " quarterly, added a book review section, undertook to publish prose fiction, and established a reputation for eclecticism."[4]
When Contemporary Verse ceased publication in February 1953, Cogswell acquired and began mailing to its list of subscribers. "It is now the intention of The Fiddlehead to open its pages to poets anywhere in the English-speaking world," UNB president Trueman wrote in Cogswell's first issue.[6]
Cogswell also "literally reshaped the magazine, shrinking its pages to a more conventional size [and] setting aside space for advertising." A call for submissions was added as a permanent item. Cogswell's decision to use Villiers Press of London, England as the publisher got The Fiddlehead noticed by Trace magazine, another Villiers client. The journal began attracting subscriptions and submissions from across North America.[2]
In 1958, both Earle Birney and Northrop Frye criticized the magazine's international orientation. "Birney criticized the magazine for giving space to what he considered insignificant American poets. Frye likewise characterized The Fiddlehead as 'a dumping ground for otherwise unpublishable American stuff'."[2]
By 1959 Cogswell was printing fiction as well as poetry (a condition of the Canada Council grant the magazine was receiving).[6]
UNB publication
Edit
In 1967 ownership passed to UNB, and the magazine "continued as a quarterly with an expanded and improved format."[4] Robert Thompson, the new editor, positioned The Fiddlehead as a national literary magazine. Thompson "used his editorials to comment on the state of Canadian literature, to bring attention to young writers, and generally to harangue the literate public. His editorials were brash and energetic, sometimes acerbic and always comical." He also changed the cover, for the first time in the magazine's history, to a new painting by Marjory Donaldson.[2]
Robert Gibbs, who became editor in 1971, "regularized the journal's length; each issue was now about 120 pages of poetry, short fiction, reviews, and drawings." Gibbs "wanted The Fiddlehead to give space to young writers and to remain open to a broad range of literary modes and forms - not affiliated with any particular school or ideology." Roger Ploude, editor from 1975 to 1981, continued the same editorial paradigm, while reversing a long-standing art policy: "he turned the cover of the magazine into an ever-changing gallery space, which featured a different work of art with every issue."[2]
In 1981, new editor Peter Thomas rebranded The Fiddlehead as a regional literary magazine of Atlantic Canada. "Among Thomas's innovations included the regular appearance of personal essays by Atlantic Canadians organized under the heading 'Out of Place.' Thomas also included bulletins of literary happenings ("Atlantic Soundings") from each of the four Atlantic provinces. His successors in the 1980s, Don Conway and Michael Taylor, continued new orientation.[2]
Under Ross Leckie (who succeeded Don McKay as editor in 1997), The Fiddlehead, has begun moving onto the Internet, launching a website in 1999 and a Fiddlehead blog, for news between issues, in 2010.[2]
Literary Contest
Edit
The Fiddlehead holds an annual contest for both poetry and short stories. The winning poem is awarded the Ralph Gustafson Prize and $1,500 in prize money; 2 Honorable Mentions receive $500 each. The Best Story also receives $1500, again with $500 each to 2 Honorable Mentions. The 6 entries will also be published in the magazine and receive regular publication payment.[7]
See Also
Edit
References
Edit
External links
Edit
About
---
Ad blocker interference detected!
Wikia is a free-to-use site that makes money from advertising. We have a modified experience for viewers using ad blockers

Wikia is not accessible if you've made further modifications. Remove the custom ad blocker rule(s) and the page will load as expected.