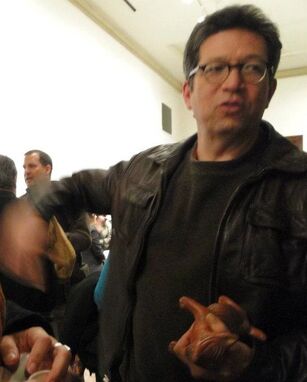 Sesshu Foster (born April 5, 1957) is an American poet.
Foster has taught composition and literature in East Los Angeles, California, for more than 20 years. He has also taught at the University of Iowa, the California Institute of the Arts, and the University of California, Santa Cruz and the Jack Kerouac School's Summer Writing Program. [1] He was in residence at California State University, Los Angeles.[2]
Recognition
Edit
2010 American Book Award for World Ball Notebook
2009 Asian American Literary Award for Poetry for World Ball Notebook
2005 Believer Book Award for Atomik Aztex
1990 American Book Award for Invocation LA: Urban Multicultural Poetry
finalist for a PEN Center West Poetry Prize, for City Terrace Field Manual
finalist for the Paterson Poetry Prize for City Terrace Field Manual
Publications
Edit
Angry Days. Los Angeles: West End Press, 1987.
City Terrace: Field Manual. New York: Kaya Production, 1996.
Atomik Aztex. San Francisco: City Lights, 2005.
American Loneliness: Selected Poems. Beyond Baroque, 2006.[3]
World Ball Notebook. San Francisco: City Lights, 2008.
Invocation L.A.: Urban multicultural poetry (edited with Michèlle T. Clinton & Naomi Helena Quiñonez). Albuquerque, NM: West End Press, 1989.

Except where noted, bibliographical information courtesy WorldCat.[4]
Anthologized
Edit
Cary Nelson, ed (January 13, 2000). Anthology of Modern American Poetry. New York: Oxford University Press. ISBN 9780195122718.

 

Tina Chang, Nathalie Handal, Ravi Shankar, ed (April 17, 2008). Language for a New Century: Contemporary Poetry from the Middle East, Asia, and Beyond. W.W. Norton & Co.. ISBN 9780393332384.

 

Ave 50 Studio - Sesshu Foster

State of the Union: 50 Political Poems. Wave books. ISBN 9781933517339.

 
References
Edit
External links
Edit
Prose
Audio
Books
About