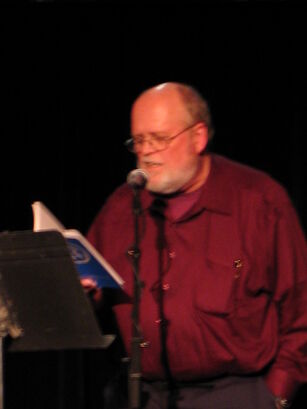 Ron Silliman
Born
August 5, 1946
Pasco, Washington
Occupation
Poet
Language
English
Citizenship
American
Ron Silliman (born August 5, 1946) is an American poet, often associated with language poetry.
In the 1960s, Silliman attended Merritt College, San Francisco State University and the University of California, Berkeley, but left without attaining a degree.
He has subsequently taught in the Graduate Writing Program at San Francisco State University, at the University of California at San Diego, at New College of California and, in shorter stints, at Naropa University[1] and Brown University.
Silliman has worked as a political organizer, a lobbyist, an ethnographer, a newspaper editor, a director of development, and as the executive editor of the Socialist Review (US).
While in San Francisco, he served on numerous community boards including the 1980 Census Oversight Committee, the Arson Task Force of the San Francisco Fire Department, and the State Department of Health's Task Force on Health Conditions in Locale Detention Facilities.
After living in the San Francisco Bay area for over 40 years, Silliman moved in 1995 to Chester County, Pennsylvania, where he resides with his wife Krishna and 2 sons, Colin and Jesse. Silliman works as a market analyst in the computer industry.
Poet and critic
Edit
Silliman has written and edited over 30 books, and has had his poetry and criticism translated into 12 languages.
He was 1st published in Berkeley, in 1965. In the 1960s he was published by journals associated with what he calls the School of Quietude, such as Poetry Northwest, TriQuarterly, Southern Review and Poetry. Silliman found such early acceptance to be a sign of the lack of standards or rigor characteristic of that literary tendency and began looking for alternatives.
Silliman edited a newsletter, Tottels (1970–81),[2] that was an early venue for Language Poetry. However, it was "The Dwelling Place," a feature of 9 poets that Silliman did for Alcheringa in 1975 that Silliman himself describes as his "first attempt to write about language poetry".[3] In 1976 & '77, he co-curated a reading series with Tom Mandel, at the Grand Piano,[4] a coffee house in San Francisco's Haight-Ashbury, continuing a series originally founded by Barrett Watten. This series was followed by one at the Tassajara Bakery, co-curated with Bob Perelman, and a series combining poets with performance artists at The Farm, co-curated with Jill Scott.
Silliman's mature critical writing dates to the early/mid-1970s when he was asked to discuss his thinking about the role of reference in poetry, leading to the essay "Disappearance of the Author, Appearance of the World," which first appeared in the journal Art Con. Soon thereafter he edited a special issue of the magazine Margins devoted to the work of poet Clark Coolidge and began to give talks and contribute essays on a regular basis thereafter.
Silliman was influenced by (and subsequently has written extensively on) the "New American Poetry", referring to the poets who initially appeared in Donald Allen's groundbreaking anthology, The New American Poetry, 1945-1960, which he has hailed as: "unquestionably the most influential single anthology of the last century. It's a great book, an epoch-making one in many ways."[5]
In 1986, Silliman's anthology, In the American Tree, a foremost collection of American language poetry, was published by the National Poetry Foundation.[6]
Between 1979 and 2004, Silliman wrote a single poem, The Alphabet. He has now begun writing a new poem, Universe, the opening section of which appears to be called Revelator.
Silliman sees his poetry as being part of a single poem or lifework, which he calls Ketjak. Ketjak is also the name of the first poem of The Age of Huts. If and when completed, the entire work will consist of The Age of Huts (1974–1980), Tjanting (1979–1981), The Alphabet (1979–2004), and Universe (2005-).[7]
Silliman writes a popular and controversial weblog devoted to contemporary poetry and poetics.[8] Debuting on August 29, 2002 Silliman's Blog received its 2,000,000th visit on January 19, 2009. Less than a full year later, on November 26, 2009, it received its 2,500,000th visit.
Recognition
Edit
Silliman was a 2003 Literary fellow of the National Endowment for the Arts & a 2002 Fellow of the Pennsylvania Arts Council as well as a Pew Fellow in the Arts in 1998. Silliman is a poet memorialized in Berkeley's Addison Anthology, a walk containing plaques recognizing poets and authors in his home town. Silliman was voted the Poet Laureate of the Blogosphere[9] He received the Levinson Prize from the Poetry Foundation in 2010.
Publications
Edit
Non-fiction
Edit

Except where noted, bibliographical information courtesy the Poetry Foundation.[10]
References
Edit
External links
Edit
Poems
Audio / video
Books
About
Etc.