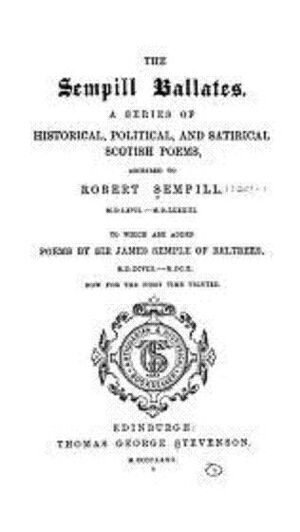 Robert Sempill the younger (?1595 - 1665?) was a Scottish poet.
Sempill wrote The Life and Death of Habbie Simson, the Piper, a humorous description of old Scottish life.[1] His reputation is based on the ballad, written circa 1640. It is an interesting picture of the times; and it gave fresh vogue to the Habbie or Burns stanza, the popular 6-lined stanza which was much used later by Ramsay, Fergusson, and Burns.[2]
Sempill was the son of poet Sir James Sempill. He was educated at the University of Glasgow, where he matriculated in March 1613.[3]
Adult life
Edit
He married Mary, daughter of Sir Thomas Lyon of Auldbar.[2] By her he had a son Francis, and a daughter Elizabeth, married to Sir George Maxwell of New Wark.[3]
During the Civil War he fought for the Stuarts, and seems to have suffered heavy monetary losses under the Commonwealth.[2]
Robert Sempill died between 1660 and 1669.
He died between 166O and 1669.[2]
Sempill enlarged his father's satire, The Packman's Pater Noster.[3]
He won for himself a place of his own among Scottish poets by his famous elegy on '"The Life and Death of Habbie Simson, Piper of Kilbarchan." The intrinsic merits of the piece, as well as its graphically humorous picture of the amusements of the olden time, would alone entitle its author to a high place among Scottish poets, but it is specially notable besides for its stave, a revival of an ancient [[Verse forms]|verse form]] which had passed into desuetude. Through the popularity of the poem the stanza became the standard one for Scots elegiac verse long before Burns gave it his special imprimatur.[3]
The elegy is supposed to date from about 1640, and had achieved wide popularity as a broadside before it was included in Watson's Choice Collection, 1706-1709.[3]
Sempill is also credited with the authorship of the epitaph on "Sawny Briggs, nephew to Habbie Simson and brother to the Laird of Kilbarchan," in the same stanza; and he no doubt was the author of other poems — it may even be of some attributed to his son Francis.[3]
References
Edit

 Henderson, Thomas Finlayson (1897) "Sempill, James" in Lee, Sidney Dictionary of National Biography 51 London: Smith, Elder, pp. 235-237 . Wikisource, Web, Feb. 26, 2018.
↑ John William Cousin, "Sempill, Robert," A Short Biographical Dictionary of English Literature. London: Dent / New York: Dutton, 1910, 333. Wikisource, Web, Feb. 26, 2018.
External links
Edit
About