This article is about the 18th-century Anglo-Irish poet, author and physician. For the 19th-century Canadian poet, see
Oliver Goldsmith (Canada)
.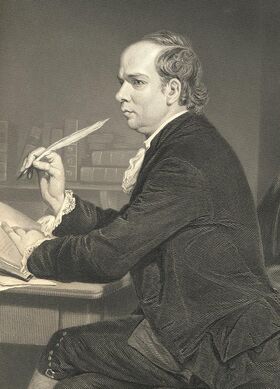 Oliver Goldsmith
Born
November 10, 1730
Either Ballymahon County Longford or Elphin, County Roscommon, Ireland
(disputed)
Died
April 4, 1774
London, England
(aged 43)
Occupation
Author, playwright, poet, apothecary's assistant, busker
Nationality
Irish
Literary movement
The Club
Notable

work(s)

The Vicar of Wakefield, "The Deserted Village", The Good-Natur'd Man, She Stoops to Conquer
Oliver Goldsmith (10 November 1730 - 4 April 1774) was an Irish poet, prose writer, and physician known for his novel The Vicar of Wakefield (1766), his pastoral poem The Deserted Village (1770) (written in memory of his brother), and his plays The Good-Natur'd Man (1768) and She Stoops to Conquer (1771, first performed in 1773). He also wrote An History of the Earth and Animated Nature.
Goldsmith's birth date and year are not known with certainty. According to the Library of Congress authority file, he told a biographer that he was born on 29 November 1731, or perhaps in 1730. Other sources have indicated 10 November, on any year from 1727 to 1731. 10 November 1730 is now the most commonly accepted birth date.
The location of his birthplace is also uncertain. He was born either in the townland of Pallas, near Ballymahon, County Longford, Ireland, where his father was the Anglican curate of the parish of Forgney, or at the residence of his maternal grandparents, at the Smith Hill House in the diocese of Elphin, County Roscommon where his grandfather Oliver Jones was a clergyman and master of the Elphin diocesan school. When he was two years old, Goldsmith's father was appointed the rector of the parish of "Kilkenny West" in County Westmeath. The family moved to the parsonage at Lissoy, between Athlone and Ballymahon, and continued to live there until his father's death in 1747.
In 1744 Goldsmith went up to Trinity College, Dublin. His tutor was Theaker Wilder. Neglecting his studies in theology and law, he fell to the bottom of his class. He was graduated in 1749 as a Bachelor of Arts, but without the discipline or distinction that might have gained him entry to a profession in the church or the law; his education seemed to have given him mainly a taste for fine clothes, playing cards, singing Irish airs and playing the flute. He lived for a short time with his mother, tried various professions without success, studied medicine desultorily at the University of Edinburgh and the University of Leiden, and set out on a walking tour of Flanders, France, Switzerland and Northern Italy, living by his wits (busking with his flute).
He settled in London in 1756, where he briefly held various jobs, including an apothecary's assistant and an usher of a school. Perennially in debt and addicted to gambling, Goldsmith produced a massive output as a hack writer for the publishers of London, but his few painstaking works earned him the company of Samuel Johnson, with whom he was a founding member of "The Club". The combination of his literary work and his dissolute lifestyle led Horace Walpole to give him the epithet inspired idiot. During this period he used the pseudonym "James Willington" (the name of a fellow student at Trinity) to publish his 1758 translation of the autobiography of the Huguenot Jean Marteilhe. Goldsmith was described by contemporaries as prone to envy, a congenial but impetuous and disorganised personality who once planned to emigrate to America but failed because he missed his ship.
His premature death in 1774 may have been partly due to his own misdiagnosis of his kidney infection. Goldsmith was buried in Temple Church. The inscription reads; "HERE LIES/OLIVER GOLDSMITH". There is a monument to him in the center of Ballymahon, also in Westminster Abbey with an epitaph written by Samuel Johnson.[1]
See The Vicar of Wakefield, The Good-Natur'd Man, and She Stoops to Conquer.
The Citizen of the WorldEdit
In 1760 Goldsmith began to publish a series of letters in the Public Ledger under the title The Citizen of the World. Purportedly written by a Chinese traveler in England named Lien Chi, they used this fictional outsider's perspective to comment ironically and at times moralistically on British society and manners. It was inspired by the earlier essay series Persian Letters by Charles de Secondat, baron de Montesquieu.
The HermitEdit
Goldsmith wrote this romantic ballad of precisely 160 lines in 1765. The hero and heroine are Edwin, a youth without wealth or power, and Angelina, the daughter of a lord "beside the Tyne." Angelina spurns many wooers, but refuses to make plain her love for young Edwin. "Quite dejected with my scorn," Edwin disappears and becomes a hermit. One day, Angelina turns up at his cell in boy's clothes and, not recognizing him, tells him her story. Edwin then reveals his true identity, and the lovers never part again. The poem is notable for its interesting portrayal of a hermit, who is fond of the natural world and his wilderness solitude but maintains a gentle, sympathetic demeanor toward other people. In keeping with eremitical tradition, however, Edwin the Hermit claims to "spurn the [opposite] sex." This poem appears under the title of "A Ballad" sung by the character of Mr. Burchell in Chapter 8 of Goldsmith's novel, The Vicar of Wakefield.
In the 1760s Goldsmith witnessed the demolition of an ancient village and destruction of its farms to clear land to become a wealthy man's garden.[2] His poem The Deserted Village, published in 1770, expresses a fear that the destruction of villages and the conversion of land from productive agriculture to ornamental landscape gardens would ruin the peasantry.[2]
The Deserted Village gave the demolished village the pseudonym "Sweet Auburn" and Goldsmith did not disclose the real village on which he based it. However, he did indicate it was about Template:Convert/LoffAoffDbSoff from London and it is widely believed to have been Nuneham Courtenay in Oxfordshire, which Simon Harcourt, 1st Earl Harcourt had demolished and moved Template:Convert/LoffAoffDbSoff away to make the park for his newly built Nuneham House.[2]
Other works
Edit
The ironic poem, An Elegy on the Death of a Mad Dog was published in 1766.
Goldsmith is also thought to have written the classic children's tale The History of Little Goody Two-Shoes.
Critical introduction
Edit
The poems of Goldsmith make but a small fragment of his work; they are, however, more finely wrought and of a costlier material than the rest. "I cannot afford to court the draggle-tail Muses," he said, "they would let me starve." And so he turned to the booksellers' task-work, bestowing on that task-work a grace which was all his own; and, the drudgery ended, he took his wages and was light of heart. But poetry belonged to his higher self, to his affections, to his imagination. Goldsmith could not have written The Deserted Village to the order of Griffiths or Newbery; and it is told — nor is the story incredible — that he went back with the note for one hundred pounds in his pocket, and insisted that his publisher should not ruin himself by paying "five shillings a couplet". The rustic maid Poetry whom he loved was not quite penniless; still Goldsmith felt that the attachment was imprudent, and she was none the less dear to his foolish heart on that account:
'Dear charming nymph, neglected and decried,
My shame in crowds, my solitary pride,
Thou source of all my bliss and all my woe,
That found'st me poor at first, and keep'st me so.'
His poems won for Goldsmith friendships and fame, yet he felt truly that his was not a poetic age. The keenest intellects and the most powerful imaginations of the time found their proper utterance in prose. The high tragedy of that period is Clarissa; the broadest and brightest study of the comédie humaine is Tom Jones. Johnson in his essays had dignified the minor morals of Addison, and breathed into them the spirit of a courageous melancholy. Burke by breadth of vision and largeness of character was transforming the political pamphlet from a thing of party to a thing for mankind. Hume had shown how the facts of history may be artfully disposed, and their ragged edges smoothed away, until a graceful narrative emerges from the confusion. Gibbon was already projecting the lines of his Roman road through the centuries. It was the age of prose. The poets themselves had turned critics, making but timid experiments in verse; the more exquisite their culture, the less was their poetic courage. One or two indeed might appear more robust, but by a well-instructed eye their force was seen to be but turbulence. As for the rest they handed their verses around in manuscript; then perhaps contributed them to a poetical miscellany; finally, collected them in a tiny volume, or a quarto pamphlet of ample margin.
Goldsmith, whose genius slumbered late, was in no hurry to be a poet, and he looked carefully to make sure of himself and of his way. With a happy instinct he discerned his own gift, and it was his virtue, amid all his wanderings, and with all his seeming recklessness, to be faithful to that gift. Should he apply his humour to base uses and follow in the steps of Churchill? Goldsmith affected no airs of dignity in what he wrote, and did not fear that word of reproach in his day, low; but his gentle heart, his kindly wisdom, made it impossible for him to follow Churchill. He did not covet the reputation of a literary bully; his was no loud contentious voice; if he hated anything, he hated the rage of party spirit.
But might he not accept Gray as a master? Goldsmith has left on record his estimate of Gray, and the words express a qualified enthusiasm, a certain official admiration as critic. But in truth, to please him poetry should address the heart, and he felt cold towards the fastidious flights of The Bard and The Progress of Poetry. He ventured to hint to Gray the advice that Isocrates used to give his scholars, study the people. Pindar had been popular — Pan himself was seen dancing to his melody. The seeming obscurity, the sudden transitions, the hazardous epithet of that mighty master had been caught by Gray; the directness, the life, the native energy of classical poetry he had not discovered. And Gray's imitators, what did they produce but 'tawdry things … in writing which the poet sits down without any plan, and heaps up splendid images without any selection'?
Last, there was the didactic essay or epistle in verse. Should Goldsmith become the successor of Akenside? Goldsmith highly esteemed the didactic poem; he looked on it as characteristic of England. But, at least, let it be written in our old rhymed couplet, not in pedantic blank-verse; and as for the pompous epithet, the licentious transposition, the unnatural construction, let these be reformed altogether. Why too should dulness be an essential of didactic poetry? Goldsmith could not endure its "disgusting solemnity of manner"; he loved innocent gaiety, and found much wisdom in that agreeable trifling which often "deceives us into instruction."
With such views, and at a time of life when all his powers were ripe and mellow, Goldsmith published his Traveller. Some fragments, perhaps a first sketch of the poem, had been sent from Switzerland to his brother Henry in 1755. The Traveller, as we know it, is an attempt to unite the didactic with the descriptive poem. But Goldsmith does not begin with theory, and proceed to illustrate his theory by a series of pictures. He begins with a sigh for kindred and for home. The poem is personal; the reflections, except perhaps the closing ones, which came from Johnson, are such as naturally arose in his mind in the days of his wandering. It would have been easy to have thrown The Traveller into the form of an Essay on the Happiness of Nations, or The Deserted Village into that of an Epistle on the Dangers of Luxury, and then the wanderer sounding his flute beside the Loire might have risen to the stature of a philosophic spectator with a classical name; sweet Auburn might have appeared as minor term of a syllogism concerned with the abuse of wealth.
Goldsmith chose a simpler method, more wholesome and sweet. He had actually smiled at sight of the old dames of the province in their quaint French caps leading out the little boys and girls to foot it while he piped; he had turned away disappointed from the Carinthian peasant's inhospitable door; he had breasted the keen air with the Alpine herdsman; he had lazily stared from the towing-path at the Dutchman squat on his brown canal-boat. Seeking neither wealth, nor advancement, nor toilful learning, unencumbered by possessions of his own, he had looked on all with a sympathetic eye, an open heart, an innocent delight in human gladness, a kindly smile at human frailty, a sigh and a tear for human woe; and from all he had gathered a store of gentle wisdom, of dear remembrance. He needed only to select from his recollections whatever was most full of charm, what was gayest, tenderest, most pleasantly coloured, and with these to mingle some natural thoughts, some natural feelings. Surely an easy thing; and yet none except Goldsmith had the secret how to do this, to unite such various elements into a delightful whole,—description, reflection, mirth, sadness, memory and love. No one like Goldsmith could pass so tranquilly from grave to gay, still preserving the delicate harmony of tone. No one like Goldsmith knew how to be at once natural and exquisite, innocent and wise, a man and still a child.
The naturalness and ease of his poetry are those of an accomplished craftsman. His verse, which flows towards the close of the period with such a gentle yet steady advance, is not less elaborated than that of Pope, and Goldsmith conceived his verse more in paragraphs than in couplets. His subdued brilliancy was perhaps harder to attain than the point and polish of The Rape of the Lock. His artless words were, each one, delicately chosen; his simple constructions were studiously sought. Cooke, Goldsmith's neighbour in the Temple, speaks of the Doctor's slowness in writing poetry "not from tardiness of fancy, but from the time he took in pointing the sentiment, and polishing the versification."
In writing The Deserted Village the Doctor, as Cooke again tells us, "first sketched a part of his design in prose, in which he threw out his ideas as they occurred to him; he then sat down carefully to versify them, correct them, and add such other ideas as he thought better fitted to the subject; and if sometimes he would exceed his prose design by writing several verses impromptu, these he would take singular pains afterwards to revise, lest they should be found unconnected with his main design." When Cooke entered the Doctor's chamber one morning Goldsmith with some elation read aloud to him the ten lines beginning
'Dear lovely bowers of innocence and ease,
Seats of my youth, when every sport could please.'
"Come, let me tell you this is no bad morning's work," he said; "and now, my dear boy, if you are not better engaged, I should be glad to enjoy a Shoemaker's Holiday with you."
Whether The Traveller or The Deserted Village be the more admirable poem, whether Auburn be an English village or the Irish Lissoy, or both in one, whether Goldsmith's political economy be solid or sentimental, it is perhaps not necessary once more to discuss. Perhaps Auburn bordered on Shakespeare's Forest of Arden, and the doctrines concerning agricultural and commercial prosperity were suited to that neighbourhood. It would be pleasant to hear Jaques and Touchstone discuss them, taking opposite sides. Certainly Auburn is English, but certainly too Paddy Byrne kept school there, and Uncle Contarine or Henry Goldsmith occupied the rectory. In whatever shire or county situated, we know Auburn better than any other village; its sweet confusion of rural sounds is in our ears; we have seen its children hanging on the venerable preacher's gown; we have played truant from the stern schoolmaster, and trembled in his presence; we know the clicking of the ale-house clock, and have felt the old, plain pathos of the woodman's ballad! And we grieve that Auburn is departed. It may be a weak retreat into the age of sentiment and simplicity and Rousseau; perhaps we ought rather exult in the triumphs of modern civilisation and the progress of modern science. Still the flowers of an old garden-croft smell sweet, and the hawthorn bush is white under which lovers whisper.
The ballad of "Edwin and Angelina", "The Haunch of Venison", and "Retaliation" mark the extremes of Goldsmith's somewhat limited range in verse. Any reader of the ballad who pleases may make a wry face, along with Kenrick of Grub Street, at the insipidity of Dr. Goldsmith's negus, and may seek elsewhere some livelier liquor. We feel differently, for we have heard this ballad in the open air from Mr. Burchell's manly throat, while Sophia in her new ribbons languished in the hay. To us, the love-lorn stranger is an eighteenth-century cousin—and so perhaps a little modish—of Rosalind and Viola. Those earlier disguisers bore themselves no doubt more gallantly, with more of saucy archness; but none was more sweetly discovered than Goldsmith's pretty pilgrim by her mantling blush, and bashful glance, and rising breast. In The Haunch of Venison we have a miniature farce, and Goldsmith good-naturedly includes himself among the persons to be laughed at. Retaliation is the most mischievous, and the most playful, the friendliest and the faithfulest of satires. How much better we know Garrick because Goldsmith has shown him to us in his acting off the stage! And do we as often think of Reynolds in any attitude as in that of smiling non-listener to the critical coxcombs:
'When they talked of their Raphaels, Correggios and stuff,
He shifted his trumpet and only took snuff.'
Would that portraits of Johnson and Boswell had been added![3]
Recognition
Edit
A white marble memorial to Goldsmith, by Joseph Nollekens, is over the doorway leading to Faith Chapel in Poets' Corner, Westminster Abbey.[4]
Goldsmith lived in Kingsbury, London, between 1771 and 1774, and the Oliver Goldsmith Primary School there is named after him.
A statue of him stands at the Front Arch of Trinity College, Dublin.
His name has been given to a new lecture theatre and student accommodation on the Trinity College campus, Goldsmith Hall.
Auburn, Alabama, and Auburn University were named for the first line in Goldsmith's poem: "Sweet Auburn, loveliest village on the plain." Auburn is still referred to as the 'loveliest village on the plains.'
There is a statue in Ballymahon, County Longford.
London Underground locomotive number 16 (used on the Metropolitan line of the Underground until 1962) was named Oliver Goldsmith.
Two of his poems, "Woman" and "Memory", were included in the Oxford Book of English Verse 1250-1900.[5] [6]
In popular culture
Edit
Somerset Maugham used the last line from An Elegy On The Death Of A Mad Dog in his novel The Painted Veil (1925). The character Walter Fane's last words are The dog it was that died.
In the play Marx In Soho by Howard Zinn, Marx makes a reference to Goldsmiths' poem, The Deserted Village.[7]
Publications
Edit
The Traveller; or, A prospect of society: A poem. London: J. Newberry, 1764.
Poems for Young Ladies: In three parts. London: J. Payne, 1767.
The Deserted Village. London: W. Griffin, 1770; Dublin: J. Exshaw, H. Saunders, B. Grierson, J. Potts, W. Sleater et al, 1770.
Threnodia Augustalis: Monody on the death of the Princess Dowager of Wales. (anonymous). London: W. Woodfall, 1772.
Retaliation: A poem. London: G. Kearsley, 1774.
The Haunch of Venison: A poetical epistle to Lord Clare. London: G. Kearsley, & J. Ridley, 1776.
The Poetical Works. London: C. Cooke (Cooke's edition), 1795.
The Poetical Works (with Life by John Mitford). London: William Pickering, 1831.
The Complete Poetical Works (with memoir by William Spalding). London: Griffin, 1870.
The Complete Poetical Works (edited by Austin Dobson). London: Henry Frowde for Oxford University Press, 1906.
Non-fiction
Edit
The Mystery Revealed: Containing a series of transactions and authentic testimonials, respecting the supposed Cock-Lane ghost. London: W. Bristow, 1742.
Enquiry into the Present State of Polite Learning in Europe. London: R. & J. Dodsley, 1759.
The Citizen of the World; or, Letters from a Chinese philosopher, residing in London, to his friends in the east.. London: J. Newbery, 1762; Dublin: George & Alex Ewing, 1762. Volume I, Volume II
The Art of Poetry, on a New Plan. London: J. Newbery, 1762,
The Life of Richard Nash. London: J. Newbery; W. Frederick, at Bath; & G. Faulkener [sic], in Dublin, 1762.
An History of England: In a series of letters from a nobleman to his son. London: J. Newberry, 1764.
Essays. London: W. Griffin, 1765

(facsimile edition), Menston, UK: Scolar Press, 1970.

The Roman History: From the foundation of the city of Rome to the destruction of the Western Empire. Dublin: S. Powell, J. Exshaw, H. Saunders, B. Grierson, W. Sleater, et al, 1769. Volume I
The Life of Thomas Parnell. London: T. Davies, 1770.
The Life of Henry St. John, Lord Viscount Bolingbroke. London: T. Davies, 1770.
The History of England: From the invasion of Julius Cæsar, to the death of George II. London: T. Davies, Becket & De Hondt, & T. Cadell, 1771. Volume I

An Abridgment of The History of England: From the invasion of Julius Cæsar, to the death of George II. London: B. Law, G. Robinson, G. Kearsly, T. Davies,T. Becket, T. Cadell, & T. Evans, 1774.

An History of the Earth and Animated Nature. (8 volumes), London: J. Nourse, 1774. Volume I, Volume VI
The Grecian History: From the earliest state to the death of Alexander the Great. (2 volumes), London: J. & F. Rivington, T. Longman, G. Kearsley, W. Griffin, G. Robinson, et al, 1774.
A Survey of Experimental Philosophy: Considered in its present state of improvement. London: T. Carnan and F. Newbery, 1776.
The Bee: A collection of essays. London: John Sharpe, 1819.
The Bee, and other essays. London: Humphrey Milford for Oxford University Press, 1914.
Collected editions
Edit
Poems and Plays. Dublin: Price, Sleater, W. Watson, Whitestone, Chamberlaine, et al, 1777; London: B. Newberry & T. Johnson, 1780.
The Miscellaneous Works. (2 volumes), London: H. Baldwin for J. Johnson, G. & J. Robinson, W.J. & J. Richardson, et al, 1801. Volume I, Volume II
The Works of Oliver Goldsmith. London: J. Johnston, et al, 1806.
The Works of Oliver Goldsmith (edited by Peter Cunningham). (4 volumes), London: John Murray, 1854.
Translated
Edit
Jean Marteilhe, The Memoirs of a Protestant: Condemned to the galleys of France for his religion (translated as "James Wallington"). London: R. Griffiths & E. Dilly, 1758.
Jean-Henri-Samuel Formey, A Concise History of Philosophy and Philosophers. London: Francis Newbery, 1766.
The Bee (literary magazine). London: J. Wilkie, 1759.
The Beauties of English Poesy. (2 volumes), London: William Griffin, 1767.
The Collected Letters (edited by Catherine Goldsmith Hodson & Katharine Canby Balderston). Cambridge, UK: Cambridge University Press, 1928.

Except where noted, bibliographical information courtesy WorldCat.[8]
References
Edit
Campbell, Gordon (ed.), Oliver Goldsmith (Everyman's Poetry Series), ISBN 0-460-87827-1
Connellan, J.A., Oliver Goldsmith of Elphin, Published for the Goldsmith Society (1935)
Irving, Washington, Life of Oliver Goldsmith, ISBN 1-58963-236-2
Prior, James, Life of Goldsmith, two volumes (London: John Murray, 1837) at Google Books
Rousseau, George (1974), Goldsmith: The Critical Heritage (London: Routledge and Kegan Paul, 1974). ISBN 0-7100-7720-3
Rowley, Trevor (1978). Villages in the Landscape. Archaeology in the Field Series. London: J.M. Dent & Sons Ltd. p. 132. ISBN 0 460 04166 5.

 
External links
Edit
Poems
Prose
Quotes
Books
About
Etc.
Ad blocker interference detected!
Wikia is a free-to-use site that makes money from advertising. We have a modified experience for viewers using ad blockers

Wikia is not accessible if you've made further modifications. Remove the custom ad blocker rule(s) and the page will load as expected.