"Love Me, Love My Dog"
Edit

He had a falcon on his wrist,
A hound beside his knee,
A jewelled rapier at his thigh;
Quoth he: "Which may she be?
My chieftain cried: 'Bear forth, my page,
This ring to Lady Clare;
Thou'lt know her by her sunny eyes
And golden lengths of hair.'
But here are lovely damsels three,
In glittering coif and veil,
And all have sunny locks and eyes,—
To which unfold the tale?"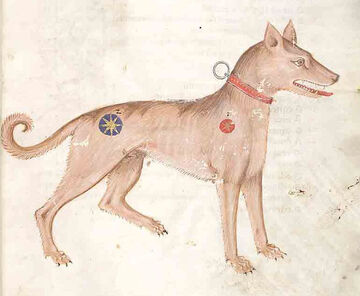 Out spake the first: "O pretty page,
Thou hast a wealthy lord;
I love to see the jewels rare
Which deck thy slender sword!"
She smiled, she waved her yellow locks,
Rich damask glowed her cheek;
He bent his supple knee and thought:
"Not this the maid I seek."

The second had a cheek of rose,
A throat as white as milk,
A jewelled tire upon her brow,
A robe and veil of silk.
"O pretty page, hold back the hound;
Uncouth is he and bold;
His rough caress will tear my veil,
My fringe of glittering gold!"
She frowned, she pouted ruby lips—
The page he did not speak;
He bent his curly head and thought:
"Not this the maid I seek."

The third, with cobweb locks of light
And cheeks like summer dawn,
Dropped on her knee beside the hound
Upon the shaven lawn.
She kissed his sinewy throat, she stroked
His bristly rings of hair;
"Ho!" thought the page, "she loves his hound,
So this is Lady Clare!"

This poem is in the public domain