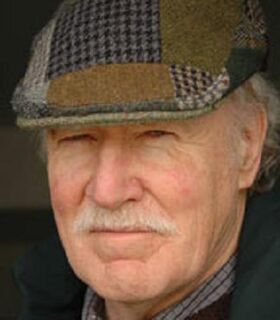 Lionel John Kearns (born February 6, 1937) is a Canadian poet and academic.[1]
Kearns was born in Nelson, British Columbia,[1] the son of singer Dorothy (Welch) and adventure story writer C.F. Kearns. During World War II the family lived in Fort Macleod, Alberta, where C.F. Kearns was a flight instructor.[2]
In 1955 he enrolled at the University of British Columbia, where with fellow students George Bowering, Frank Davey, Fred Wah. and others, Kearns became involved with TISH, a seminal Canadian poetry newsletter. Kearns; thesis adviser at UBC was Earle Birney.[1]
Kearns then completed an M.A. in structural linguistics at the University of London, spending a year researching the West Indian English dialect spoken on the island of Trinidad.[1]
Except for one year (1981-1982) spent as writer in residence at Concordia University,[2] he was a professor of English at Simon Fraser University for 20 years (1966-1986).[1] In 1988 he became the first instructor for Writer-in-Electronic Residence (WIER), an online, interactive creative writing program.[1]
He is a key figure among the Canadian avant-garde poets of the 1960s, a pioneer of interactive communications technology in teaching poetry, and an early proponent of digital poetry.[1]
Publications
Edit
Songs of Circumstance. Vancouver: Tish Press, 1963
Listen George. Montreal: Imago Press, 1965.
Pointing. Toronto: Ryerson Press, 1967.
By the Light of the Silvery Mclune: Media parables, poems, signs, gestures, and other assaults on the interface. Vancouver: Daylight Press, 1969.
About Time. Prince George: Caledonia Press, 1974.
Practising Up to Be Human. Toronto: Coach House, 1978.
Ignoring the Bomb: New and selected poems. Lantzville: Oolichan Press, 1982.
Convergences. Toronto: Coach House, 1984.

revised web-based edition, 2004.

A Few Words Will Do. Vancouver: Talonbooks, 2007

Except where noted, bibliographical information courtesy ABC Bookworld.[3]
Audio / video
Edit
The Birth of God (cine-poem, 16mm., sound, 3 1/2 min.) Film by Gordon Payne, sound by Peter Huse, poem by Lionel Kearns. 1973.
Negotiating a New Canadian Constitution (cine-poem, 16mm., sound, 3 1/2 min.). Film by Gordon Payne, poem by Lionel Kearns. (National Film Board of Canada, 1974).

Except where noted, a/v information courtesy the University of Toronto.[3]
References
Edit
Jim Andrews, On Lionel Kearns: A binary meditation on or contemporary reading of the work of Lionel Kearns (2004).
Lianne Moyes, "Dialoguing the Monologue of History and Lyric: Lionel Kearns' Convergences", Open Letter 7, 5 (Summer 1989),15-27.
Manina Jones, "Log Entries: Exploring discursive space in Lionel Kearns Convergences", in Douglas Barber, ed., Beyond Tish (1991)
↑ 1.0 1.1 1.2 1.3 1.4 1.5 1.6 Camille Martin, Lionel Kearns, Canadian Encyclopedia, November 15, 2013. Web, Apr. 15, 2017.
↑ 2.0 2.1 Lionel Kearns: Biography, Canadian Poetry Online, University of Toronto. Web, Apr. 15, 2017.
↑ 3.0 3.1 Publications, Lionel Kearns, Canadian Poetry Online, University of Toronto, UToronto.ca, Web, June 3, 2012.
External links
Edit
Poems
Audio / video
About