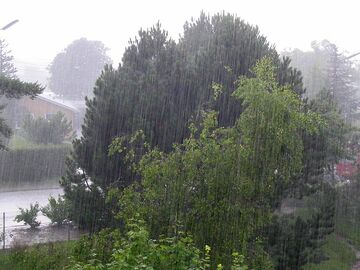 Like Rain it sounded till it curved
Edit

Like Rain it sounded till it curved
And then I knew 'twas Wind —
It walked as wet as any Wave
But swept as dry as sand —
When it had pushed itself away
To some remotest Plain
A coming as of Hosts was heard
That was indeed the Rain —
It filled the Wells, it pleased the Pools
It warbled in the Road —
It pulled the spigot from the Hills
And let the Floods abroad —
It loosened acres, lifted seas
The sites of Centres stirred
Then like Elijah rode away
Upon a Wheel of Cloud.

External links
Edit
Audio / video
This poem is in the public domain
Ad blocker interference detected!
Wikia is a free-to-use site that makes money from advertising. We have a modified experience for viewers using ad blockers

Wikia is not accessible if you've made further modifications. Remove the custom ad blocker rule(s) and the page will load as expected.