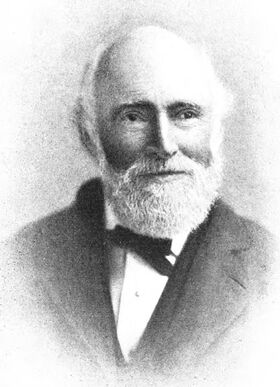 Rev. John Sullivan Dwight (May 13, 1813 - September 5, 1893) was a Unitarian minister, a transcendentalist, and America's first influential classical music critic. He is best known for writing the English words to the carol "O Holy Night."
Dwight was born in Boston, Massachusetts, the son of John Dwight, M.D. (1773-1852), and Mary Corey. He was suspected as being a member of the New England Dwight family through his paternal grandfather John Dwight, Jr. (1740-1816).[1]
He graduated from Harvard College in 1832 and then prepared for the Unitarian ministry at Harvard Divinity School where he graduated in 1836. Dwight was ordained as minister in 1840, but this was not his vocation. Instead he developed a deep interest in music, in particular studying Ludwig van Beethoven's music closely.
Dwight served as director of the school at the Brook Farm commune where he also taught music and organised musical and theatrical events. About this time he began writing a regular column on music.
Brook Farm collapsed financially in 1847, but Dwight set up a cooperative house in Boston and began a career in musical journalism. He married singer Mary Bullard (daughter of Silas Bullar and Mary Ann Barrett) on February 11, 1851.[1] In 1852 he founded Dwight's Journal of Music, which became one of the most respected and influential such periodicals in the country in the mid-19th century.[2] Among the early writers was Alexander Wheelock Thayer, who would become one of the first major music historians in the country. Other contributors included John Knowles Paine, William F. Apthorp, W.S.B. Mathews and C.H. Brittan.[3] In 1855 Dwight translated the carol "O Holy Night" from French.
His wife died September 6, 1860; they had no children. He died on September 5, 1893 and is buried at Forest Hills Cemetery in Boston.
Poems by John Sullivan Dwight
Edit
References
Edit
External links
Edit
Lyrics
"O Holy Night" (English words by Dwight).
About