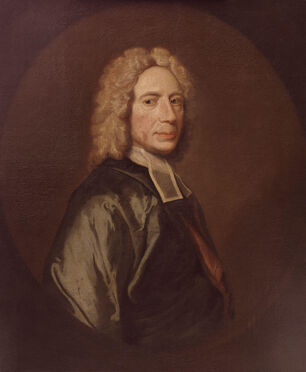 Rev. Isaac Watts (17 July 1674 - 25 November 1748), was an English poet, hymnist, theologian, and logician.
Watts was born at Southampton, where his father kept a school, and educated at a Nonconformist academy at Stoke Newington. He became minister of an Independent congregation in Mark Lane; but his health proving insufficient for his pastoral duties, he resigned, and gave himself chiefly to literary work, continuing to preach occasionally. For the last 36 years of his life he resided at Theobald's, the house of his friend, Sir Thomas Abney. Among his writings were various educational treatises, including those on Logic and The Improvement of the Mind, and some works on theological subjects. But his fame rests on his sacred poems and his hymns, which number over 500, and with much that is prosaic comprised "There is a Land of Pure Delight," "O God our Help in Ages Past," and "When I survey the Wondrous Cross," which has been called "the most majestic hymn in English speech." His Horæ Lyricæ was published in 1706, Hymns (1707), Divine Songs (for children) (1715), Metrical Psalms (1719). Some of his poems, such as his exquisite cradle song, "Hush, my dear, lie still and slumber" have a perfect beauty and tenderness.[1]
Watts was recognized as the "Father of English Hymnody", as he was the 1st prolific and popular English hymnwriter, credited with some 750 hymns. Many of his hymns remain in active use today and have been translated into many languages.
Youth and education
Edit
Watts was born at Southampton. His father, Isaac, was described as "a clothier" of 21 French Street, Southampton (1719), who, as deacon of the independent meeting, he was imprisoned for his religious opinions in the gaol of Southampton at the time of the birth of his son Isaac and in the following year (1675). In 1685 also he was for the same cause obliged to hide in London for 2 years. In later years he kept a flourishing boarding-school at Southampton. He had a liking for the composition of sacred verses; a few of his pieces appear in the posthumous works of his son (1779), and several others in that volume are credited to him by Gibbons in his biography. He died in February 1736-7, aged 85. His wife was daughter of an Alderman Taunton at Southampton, and had Huguenot blood in her veins.[2]
Isaac Watts the son was the eldest of 9 children. He received an excellent education at the grammar school from John Pinhorne, rector of All Saints, Southampton, prebendary of Leckford, and vicar of Eling, Hampshire; a Pindaric ode to Pinhorne, by Watts, describes the wide range of his classical teaching.[2]
Watts' facility in English verse showed itself very early. The promise of his genius induced Dr. John Speed, a physician of the town, to offer to provide for Watts at the university; but, as he preferred "to take his lot among the dissenters," he was sent in 1690 to an academy at Stoke Newington, under the presidency of Thomas Rowe, pastor of the independent meeting in Girdlers' Hall. The teaching in classics, logic, Hebrew, and divinity was excellent, as the notebooks of Watts show; and he owed to the academy his after habits of laborious analysis and accuracy of thought. Watts was admitted to communion in Rowe's church in December 1693.[2]
After leaving the academy in 1694, Watts spent 2 years and a half at home, and commenced the composition of his hymns. The 1st of these, "Behold the glories of the Lamb," was produced as an improvement on the hymns of William Barton and others then sung in the Southampton chapel. Several other pieces followed: they were circulated in manuscript, and given out line by line when sung.[2]
In October 1696 he became tutor to the son of Sir John Hartopp, bart., at Stoke Newington, and held the post 5 years, devoting all his leisure to Hebrew and divinity.[2]
He preached his first sermon on 17 July 1698, and in the following year was chosen assistant pastor to Isaac Chauncy in the chapel at Mark Lane. On 18 March 1702 he succeeded to the pastorate. The congregation was a distinguished one: it numbered among its members Mrs. Bendish, Cromwell's granddaughter; Charles Fleetwood; Charles Desborough, brother-in-law of Cromwell; as well as the Hartopps, and Sir Thomas and Lady Abney. It removed successively to Pinners' Hall in 1704, and Bury Street, St. Mary Axe, in 1708. Watts, however, soon proved unequal to its single supervision. The intense study to which he had devoted himself had undermined his constitution and made him subject to frequent attacks of illness. As early as 1703 Samuel Price began to assist him, and was chosen co-pastor in 1713.[2]
A visit to Sir Thomas and Lady Abney at Theobalds in 1712 led to a proposal from them that Watts should reside permanently in their house; and the remainder of his days was spent under their roof, either at Theobalds or at Stoke Newington, to which Lady Abney removed in 1735 after the 1722 death of Sir Thomas Abney. The kindness of the Abneys gave him a sheltered and luxurious home. He drove in from Theobalds for his Sunday ministrations when his health permitted. In the fine house at Stoke Newington, which stood in what is now Abney Park cemetery, some figures on the panelling, painted by Watts, were formerly shown.[2]
His attacks of illness increased as years went on: he only reluctantly consented to retain his pastorate, and had scruples as to taking any salary; but the congregation refused to break the connection with one so famous and beloved as Watts became.[2]
He died on 25 Nov. 1748, and was buried at Bunhill Fields.[3]
Watts was one of the most popular writers of the day. His educational manuals — the Catechisms (1730) and the Scripture History (1732) were still standard works in the middle of the 19th century. His philosophical books, especially the Logic (1725), had a long circulation, as did his World to Come (1738) and other works of popular divinity. The best of his works is The Improvement of the Mind (1741), which Johnson eulogises.[2]
In 2 fields his literary work needs longer notice. His Horæ Lyricæ (1706) gave him his niche in Johnson's Lives of the Poets. It was a favorite book of religious poetry, and as such was admitted into a series of Sacred Classics (1834), with a memoir of Watts from Southey's pen.[2]
Watts's poetical fame, though, rests on his hymns. At the beginning of the 18th century the stern embargo which Calvin had laid on the use in the music of sacred worship of everything except metrical psalms and canticles had been broken by the obscure hymns of Mason, Keach, Barton, and others; and hymns were freely used in the baptist and independent congregations. The poetry of Watts took the religious world of dissent by storm.[2] It gave an utterance, till then unheard in England, to the spiritual emotions, in their contemplation of God's glory in nature and his revelation in Christ, and made hymn-singing a fervid devotional force.[4]
The success of Watts's hymns approached that of the new version of the Psalms. Edition followed edition. In the early years of the 19th century the annual output of Watts's hymns, notwithstanding all the wealth of hymn production arising out of methodism, was still 50,000 copies. The 2 staple volumes, subsequently often bound together, were the Hymns (1707; 2nd edition 1709) and the Psalms of David (1719). There are also hymns appended to some of his Sermons (1721) and in the Horæ Lyricæ.[4]
The Psalms of David is not a metrical psalter of the ordinary pattern. It leaves out all the imprecatory portions, paraphrases freely, infuses into the text the Messianic fulfilment and the evangelical interpretations, and adjusts the whole (sometimes in grotesquely bad taste, as in the substitution of "Britain" for "Israel") to the devotional standpoint of his time.[4]
The total number of pieces in the various books must be about 600, about 12 of which are still in very general use ("Jesus shall reign where'er the sun," Psalm lxxii.; "When I survey the wondrous Cross;" 'Come, let us join our cheerful songs;" and "Our God, our help in ages past," are in every hymn-book).[4]
The characteristics of his hymns are tender faith, joyousness, and serene piety. His range of subjects is very large, but many of them have been better handled since. He had to contend with difficulties which he has himself pointed out: the dearth of tunes which restricted him to the metres of the old version, the ignorance of the congregations, and the habit of giving out the verses one by one, or even line by line; and he had the faults of the poetic diction of the age. The result is a style which is sometimes rhetorical, sometimes turgid, sometimes tame; but his best pieces are among the finest hymns in English.[4]
Of another department of hymnology, Watts was also the founder. The Divine Songs (1715), the first children's hymn-book, afterwards enlarged and renamed Divine and Moral Songs, ran through 100 editions before the middle of the 19th century (cf. Notes and Queries, 3rd ser. ix. 493, x. 54, 250).[4]
The Arian controversy of his time left its mark on Watts. His hymns contain an entire book of doxologies modelled on the Gloria Patri. But at the conference about the ministers at Exeter held at Salters' Hall in 1719, he voted with the minority, who refused to impose acceptance of the doctrine of the Trinity on the independent ministers. He did not believe it necessary to salvation; the creed of Constantinople had become to him only a human explication of the mystery of the divine Godhead; and he had himself adopted another explication, which he hoped might heal the breach between Arianism and the faith of the church.[4]
He broached this theory in The Christian Doctrine of the Trinity (1722), and supported it in Dissertations relating to the Christian Doctrine of the Trinity (1724–5). He returned to the subject in The Glory of Christ as God-Man Unveiled (1746), and Useful and Important Questions concerning Jesus, the Son of God (1746). His theory, held also by Henry More, Robert Fleming, and Burnet, was that the human soul of Christ had been created anterior to the creation of the world, and united to the divine principle in the Godhead known as the Sophia or Logos (only a short step from Arianism, and with some affinity to Sabellianism); and that the personality of the Holy Ghost was figurative rather than proper or literal.[4]
None of the extant writings of Watts advances further than this; but a very pathetic piece, entitled "A Solemn Address to the Great and Ever Blessed God" (published in a pamphlet called A Faithful Inquiry after the Ancient and Original Doctrine of the Trinity in 1745, but suppressed by Watts at that time, and republished in 1802), shows how deeply his mind was perplexed and troubled. He lays out all the perplexity before God, stating his belief in the very words of Scripture generally, with the plea "Forbid it, oh! my God, that I should ever be so unhappy as to unglorify my Father, my Saviour, or my Sanctifier. … Help me … for I am quite tired and weary of these human explainings, so various and uncertain."[4]
Lardner affirmed that in his last years (not more than 2 years at most, in failing health) Watts passed to the unitarian position, and wrote in defence of it; the papers were, as Lardner owned, unfit for publication, and as such were destroyed by Doddridge and Jennings, Watts's literary trustees. Lardner declared also that the last belief of Watts was "completely unitarian" (Belsham, Memoirs of Theophilus Lindsey, pp. 161–4). The testimony, however, of those who were most intimate with Watts to his last hours is entirely silent as to any such change; and his dependence at death on the atonement (which is incompatible with "complete unitarianism") is emphatically attested (Milner, Life, p. 315).[4]
The Calvinism of Watts was of the milder type which shrinks from the doctrine of reprobation. He held liberal views on education. His tolerance and love of comprehension degenerated at times into weakness; as in his proposal to unite the independents and baptists by surrendering the doctrine of infant baptism, if the baptists would give up immersion. His learning and piety attracted a large circle, including Doddridge, Lady Hertford (afterwards Duchess of Somerset), the first Lord Barrington, Bishop Gibson, Archbishop Hort, and Archbishop Secker.[3]
Watts was the author of a text book on logic which was particularly popular; its full title was, Logic, or The Right Use of Reason in the Enquiry After Truth With a Variety of Rules to Guard Against Error in the Affairs of Religion and Human Life, as well as in the Sciences. This was first published in 1724, and its popularity ensured that it went through 20 editions.[5]
Watts' logic text book was written for beginners of logic, and the book is arranged methodically. He divided the content of his elementary treatment of logic into 4 parts: perception, judgement, reasoning, and method, which he treated in this order. Each of these parts is divided into chapters, and some of these chapters are divided into sections. The content of the chapters and sections is then subdivided by using some combination of the following devices: divisions, distributions, notes, observations, directions, rules, illustrations, and remarks. Thus, every contentum of the book comes under one or more of these headings, and this methodical arrangement serves to make the exposition clear.[5]
In Watts' Logic there are some notable departures from what one would expect to find in a text book of logic from Watts' time, and there are also some notable innovations. Detectable throughout the work is the influence of British empiricism, and in particular, the influence of philosopher and empiricist John Locke. Locke was a contemporary of Watts, and in the Logic there are several references to Locke and his Essay Concerning Human Understanding,[6] in which Locke espoused his empiricist views.
Another departure from most other authors of logic is that Watts was careful to distinguish between judgements and propositions. According to Watts, judgement is "to compare... ideas together, and to join them by affirmation, or disjoin then by negation, according as we find them to agree or disagree".[7] However, he continues by saying, "when mere ideas are joined in the mind without words, it is rather called a judgement; but when clothed with words it is called a proposition".[8]
Watts' Logic follows the scholastic tradition and divides propositions into universal affirmative, universal negative, particular affirmative, and particular negative. In the third part, Watts discusses reasoning and argumentation, with particular emphasis on the theory of syllogism, which was a centrally important part of the classical logic which Watts was treating in his work. In keeping with the common practice of logicians of his day, Watts defined logic as an art, as opposed to a science.[5]
Throughout the Logic Watts revealed his high conception of logic by stressing the practical side of logic, rather than just the speculative side. According to Watts, as a practical art, logic can be really useful in any of our inquiries, whether they are inquiries in the arts, or inquiries in the sciences, or inquiries of an ethical kind. It is Watts' emphasis on logic as a practical art which distinguishes his book from others. For, by stressing that there is a practical and non-formal part of logic, Watts was able to give rules and directions for any kind of inquiry, including the inquiries of science and the inquiries of philosophy. These rules of inquiry were given in addition to the formal content of classical logic that one would expect to find in a text book on logic from that time. Thus, Watts' conception of logic as being divided into its practical part and its speculative part, and therefore containing more than just formal logic, marks a departure from the conception of logic of most other authors.[5]
Watts' Logic became the standard text on logic at Oxford, Cambridge, Harvard and Yale; being used at Oxford University for well over 100 years. Charles Sanders Peirce, the great 19th century logician, wrote favourably of Watts' Logic. When preparing his own text book on Logic entitled A Critick of Arguments: How to Reason (also known as the Grand Logic), Peirce wrote: 'I shall suppose the reader to be acquainted with what is contained in Dr Watts' Logick, a book... far superior to the treatises now used in colleges, being the production of a man distinguished for good sense."[9]
The Logic was followed in 1741 by a supplement, The Improvement of the Mind, which itself went through numerous editions and later inspired Michael Faraday.[5]
Other writing
Edit
Besides those of Watts's publications already mentioned, the following are the chief: 1. 'The Knowledge of the Heavens and Earth,' 1726. 2. 'Essays towards the Encouragement of Charity Schools among the Dissenters,' 1728. 3. 'Philosophical Essays,' 1733. 4. 'Reliquiæ Juveniles,' 1734. 5. 'Works,' edited by Jennings and Doddridge, 1753. 6. 'Posthumous Works' (compiled from papers in possession of his immediate successor), 1779. 7. 'A Faithful Enquiry after the Ancient and Original Doctrine of the Trinity,' ed. Gabriel Watts, 1802.[3]
Recognition
Edit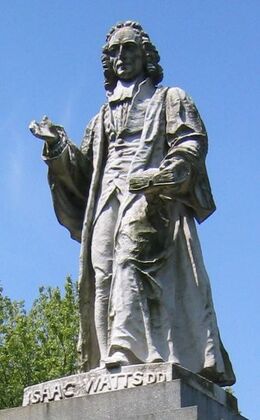 Samuel Johnson admired Watts, and included him in his Lives of the English Poets.[10]
The university of Edinburgh gave him an honorary D.D. degree (1728).[3]
A collective edition of Watts's 'Works,' as edited by Jennings and Doddridge, with additions and a memoir by George Burder, appeared in six folio volumes in 1810.[3]
A monument has been erected to him in Westminster Abbey; a statue in the park called often by his name at Southampton (1861); and another monument in the Abney Park cemetery, once the grounds of Lady Abney's house (1846).[3]
His portrait, painted by Kneller, and another drawn and engraved from the life in mezzotint by George White, are in the National Portrait Gallery, London. An anonymous portrait and a bust are in Dr. Williams's Library. There is a portrait of him in wig and gown and bands as a young man in the Above Bar chapel, Southampton. These are engraved in the 'Life' by Paxton Hood (cf. Bromley, Cat. of Engraved Portraits).[3]
Two of his poems, "The Day of Judgement" and "A Cradle Hymn", were included in the Oxford Book of English Verse 1250-1900.[11] [12]
In popular culture
Edit
One of his best known poems was an exhortation "Against Idleness And Mischief" in Divine Songs for Children, a poem which was famously parodied by Lewis Carroll in his book Alice's Adventures in Wonderland, in the poem "How Doth the Little Crocodile", which is now better known than the original.
In the 1884 comic opera, Princess Ida, there is a punning reference to Watts in Act I. At Princess Ida's women's university no males of any kind are allowed, and the Princess's father, King Gama, relates that "She'll scarcely suffer Dr. Watts' 'hymns'".
Watts is commemorated in the Calendara of Saints of the Church of England, Lutheran Church - Missouri Synod, and Evangelical Lutheran Church in America on November 25, and of the Episcopal Church (USA) on November 26.
In the 1850 novel David Copperfield by Charles Dickens, school master Dr. Strong quotes from Watts' Against Idleness And Mischief: "Satan finds some mischief still, for idle hands to do."
Publications
Edit
Poetry and songs
Edit
Horae Lyricae: Poems, chiefly of the lyric kind; in two books. London: S. & D. Bridge, for John Lawrence, 1706

enlarged as Horae Lyricae: Poems, chiefly of the lyric kind, in three Books. London: J. Humfreys, for N. Cliff, 1709; Boston: Rogers & Fowle, 1748.

Hymns and Spiritual Songs, in three books. London: J. Humfreys, for John Lawrence, 1707

revised & enlarged edition, 1709; Philadelphia: B. Franklin, 1741.

Divine Songs Attempted in Easy Language for the Use of Children. London: M. Lawrence, 1715; Philadelphia: B. Franklin & D. Hall, 1750; facsimile, London: Oxford University Press, 1971.
The Psalms of David: Imitated in the language of the New Testament, and apply'd to the Christian state and worship. London: J. Clark / R. Ford / R. Cruttenden, 1719; Hartford, CT: N. Patten, 1785.
An Elegy on the much lamented Death of Mrs. Elizabeth Bury. Bristol: [1722?].
"An Elegiac Ode: W written in the form of a soliloquy or mourning meditation at the Death of Sir Thomas Abney, Knt. and alderman of London," in Jeremiah Smith, The Magistrate and the Christian. N.p., 1722.
Poetical Works. (7 volumes), Edinburgh: 1782.
Psalms, Hymns, and Spiritual Songs (edited by Samuel M. Worcester). Boston: Crocker & Brewster, 1834.[13]
Psalms and Hymns (arranged by Rev. John Rippon, D.D., corrected & improved by Rev. Charles G. Sommers). Philadelphia: J.B. Lippincott, 1843.[14]
Non-fiction
Edit
A Sermon Preached at Salters-Hall. London:J. Humfreys, for John Lawrence, 1707.
A Guide to Prayer: or, A free and rational account of the gift, grace and spirit of prayer; with plain directions how every Christian may attain them. London: Emanuel Matthews / Sarah Cliff, 1715; Boston: J. Draper, for D. Henchman, 1739.
The Art of Reading and Writing English: or, The chief principles and rules of pronouncing our mother-tongue, both in prose and verse; with a variety of instructions for true spelling; written first for private use, and now published for the benefit of all persons who desire a better acquaintance with their native language. London: John Clark / E.M. Matthews / Richard Ford, 1721.
Sermons on Various Subjects. London: John Clark / E.M. Matthews / Richard Ford, 1721; Boston: Rogers & Fowle, 1746.
Logic; or, The right use of reason in the enquiry after truth with a variety of rules to guard against error in the affairs of religion and human life, as well as in the sciences. London: Milner, 1724; Boston: Thomas & Andrews, 1796.
Prayers Composed for the Use and Imitation of Children: Suited to their different ages and their various occasions; together with instructions to youth in the duty of prayer, drawn up by way of question and Answer; and a serious address to them on that subject. London: John Clark / Richard Hett / Emanuel Matthews / Richard Ford, 1728.
An Essay towards the Encouragement of Charity-Schools, particularly those which are supported by Protestant Dissenters, for teaching the Children of the Poor to Read and Work. London: J. Clark, 1728.
The Doctrine of the Passions Explained and Improved; or, a brief and comprehensive Scheme of the Natural Affections of Mankind, and an Account of their Names, Nature, Appearances, Effects, and different Uses in Human Life; to which are subjoined Moral and divine Rules for the Regulation or Government of them. London, 1729; New York: Printed for Robert Hodge, 1795..
Discourses of the Love of God and the Use and Abuse of the Passions in Religion, with a Devout Meditation suited to each Discourse. London: Printed for J. Clark & R. Hett, 1729.
Catechisms; or, Instructions in the Principles of the Christian Religion, and the History of Scripture, composed for Children and Youth, according to their different Ages. London: Printed for E. Matthews, R. Ford & R. Hett, 1730; Boston: Reprinted by Rogers & Fowle for J. Blanchard, 1747.
An Humble Attempt toward the Revival of Practical Religion among Christians, and particularly the Protestant Dissenters. London: Printed for E. Matthews, 1731.
The Strength and Weakness of Human Reason: or, the Important Question about the Sufficiency of Reason to Conduct Mankind to Religion and Future Happiness, Argued between An Inquiring Deist and a Christian Divine: and The Debate Compromis'd and Determin'd to the Satisfaction of both, by an Impartial Moderator. London: Printed for J. Pemberton & R. Hett, 1731.
Reliquiae Juveniles: Miscellaneous Thoughts in Prose and Verse, on Natural, Moral and Divine Subjects; Written chiefly in Younger Years. London: Printed for Richard Ford & Richard Hett, 1734; Boston: Printed for William P. Blake, 1796; facsimile, Gainesville, FL: Scholars' Facsimiles & Reprints, 1968.
Preface to Devout Exercises of the Heart, in Meditation and Soliloquy, Prayer and Praise, by Elizabeth Rowe. Coventry: Printed for M. Luckman, 1737.
"His occasional Poems during his Studies, or very soon after his closing them,"
Self-Love and Virtue Reconciled only by Religion; or, an Essay to prove that the only Effectual Obligation of Mankind to practice Virtue depends on the Existence and Will of God; together with an occasional Proof of the Necessity of Revelation. London, 1739.
The Improvement of the Mind: or, a Supplement to the Art of Logick: containing a Variety of Remarks and Rules for the Attainment and Communication of useful Knowledge in Religion, in the Sciences, and in Common Life. London: Printed for J. Brackstone, 1741

enlarged edition, 1751; Boston: Printed for David West, 1793.

chapter 3 of Memoirs of the Rev. Isaac Watts, D.D., by Thomas Gibbons. London: Printed for James Buckland & Thomas Gibbons, 1780, pp. 64-83.
Collected editions
Edit
Works of the late Reverend and Learned Isaac Watts, D.D.: Published by himself, and now collected into six volumes (edited by D. Jennings & P. Doddridge). London: Printed for T. & T. Longman, 1753.
Posthumous Works, in two volumes: Compiled from Papers in Possession of his immediate Successors; djusted and published by a gentleman of the University of Cambridge. London, 1779.
Devout Meditations from Dr. Watts. N.p., 1791.
Posthumous Works, volume 2. London, 1779.

Except where noted, bibliographical information courtesy the Poetry Foundation.[15]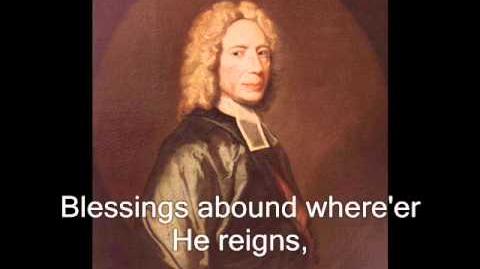 Watts' hymns include:
Many of his hymns are included in the Methodist hymn book Hymns and Psalms. Many of his texts are also used in the American hymnal The Sacred Harp, using what is known as the shape note singing technique.
References
Edit
 Bennett, Henry Leigh (1899) "Watts, Isaac" in Lee, Sidney Dictionary of National Biography 60 London: Smith, Elder, pp. 67-70

 

. Wikisource, Web, Jan. 4, 2017.
Marini, Stephen A. (2003) Sacred Song in America: Religion, Music, and Public Culture. Urbana: University of Illinois Press.
Trust in Freedom: The Story of Newington Green Unitarian Church 1708 - 1958 by Michael Thorncroft. Privately printed for church trustees, 1958.

Chapter titles: The Fertile Soil; The Church is Built; The Early Years (1714–1758); The Age of Richard Price; New Causes for Old; The Ideal of Service; The Lights Go Out; The Present Day.
External links
Edit
Poems and hymns
Books
About
Etc.