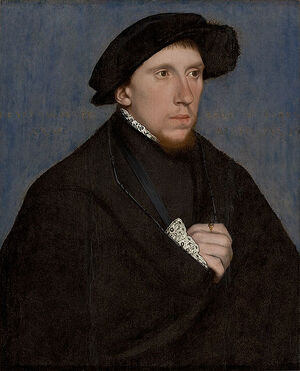 Henry Howard, Earl of Surrey, KG, Earl Marshal (1517 - 19 January 1547) was an English aristocrat, and one of the founders of modern English poetry .
Surrey was born in Hunsdon, Hertfordshire, England, the eldest son of Thomas Howard, 3rd Duke of Norfolk, and his second wife, Lady Elizabeth Stafford (daughter of Edward Stafford, 3rd Duke of Buckingham), so he was descended from kings on both sides of his family tree. He was reared at Windsor Castle with Henry VIII's illegitimate son Henry Fitzroy Duke of Richmond, and they became close friends and, later, brothers-in-law. He became Earl of Surrey in 1524 when his grandfather died and his father became Duke of Norfolk.
In 1532 he accompanied his first cousin Anne Boleyn, the King, and the Duke of Richmond to France, staying there for more than a year as a member of the entourage of Francis I of France. In 1536 his first son, Thomas (later 4th Duke of Norfolk), was born, Anne Boleyn was executed on charges of adultery and treason, and Henry Fitzroy died at the age of 17 and was buried at one of the Howard homes, Thetford Abbey. That was also the year Henry – who took after his father and grandfather in military prowess – served with his father against the Pilgrimage of Grace rebellion protesting the dissolution of the monasteries.
Marriage and issue
Edit
He married Lady Frances de Vere, the daughter of Elizabeth (Trussell) and John de Vere, 15th Earl of Oxford. They had 5 children:
Jane Howard
Thomas Howard, 4th Duke of Norfolk (10 March 1536 - 2 June 1572) married (1) Mary FitzAlan (2) Margaret Audley (3) Elizabeth Leyburne
Margaret Howard, married Henry Scrope, 9th Baron Scrope of Bolton
Catherine Howard, married Henry Berkeley, 7th Baron Berkeley, by whom she had issue.
Death and burial
Edit
He was imprisoned with his father by Henry VIII, who was convinced that Henry Howard had planned to usurp the crown from his son Edward. Henry Howard was sentenced to death on 13 January 1547, and beheaded for treason on 19 January 1547. (His father was saved only by his execution being set for the day after the king happened to die). His son Thomas became heir to the Dukedom of Norfolk instead, inheriting it on the 3rd Duke's death in 1554.
Henry Howard is buried in a spectacular painted alabaster tomb at St Michael the Archangel, Framlingham.
Ancestors of Henry Howard, Earl of Surrey
16. Sir Robert Howard
8. John Howard, 1st Duke of Norfolk
17. Lady Margaret de Mowbray
4. Thomas Howard, 2nd Duke of Norfolk
18. William de Moleyns
9. Katherine de Moleyns
19. Margery Whalesborough
2. Thomas Howard, 3rd Duke of Norfolk
20. Sir Philip Tilney
10. Sir Frederick Tilney
21. Isabel Thorpe
5. Elizabeth Tilney
22. Sir Laurence Cheney
11. Elizabeth Cheney
23. Elizabeth Cockayne
1. Henry Howard, Earl of Surrey
24. Humphrey Stafford, Earl of Stafford
12. Henry Stafford, 2nd Duke of Buckingham
25. Margaret Beaufort, Countess of Stafford
6. Edward Stafford, 3rd Duke of Buckingham
26. Richard Woodville, 1st Earl Rivers
13. Catherine Woodville, Duchess of Buckingham and Bedford
27. Jacquetta of Luxembourg
3. Elizabeth Howard, Duchess of Norfolk
28. Henry Percy, 3rd Earl of Northumberland
14. Henry Percy, 4th Earl of Northumberland
29. Eleanor Poynings
7. Eleanor Percy, Duchess of Buckingham
30. William Herbert, 1st Earl of Pembroke
15. Maud Herbert, Countess of Northumberland
31. Anne Devereux
Howard and his friend Sir Thomas Wyatt were the first English poets to write in the sonnet form that Shakespeare later used, and Howard was the first English poet to publish blank verse in his translation of the second and fourth books of Virgil's Aeneid. Together, Wyatt and Surrey, due to their excellent translations of Petrarch's sonnets, are known as "Fathers of the English Sonnet." While Wyatt introduced the sonnet into English, it was Surrey who gave them the rhyming meter and the division into quatrains that now characterizes the sonnets variously named English, Elizabethan or Shakespearean sonnets.[1][2]
Critical Introduction
Edit
The works of Surrey, though not so numerous as those of his friend Wyatt, are of a very varied character. They consist of sonnets, of miscellaneous poems in different measures, of lyrics, of elegies, of translations, of Scriptural paraphrases, of two long versions from Virgil.
The distinctive feature of Surrey's genius is its ductility; its characteristic qualities are grace, vivacity, pathos, picturesqueness. He had the temperament of a true poet, refinement, sensibility, a keen eye for the beauties of nature, a quick and lively imagination, great natural powers of expression. His tone is pure and lofty, and his whole writings breathe that chivalrous spirit which still lingered among the satellites of the eighth Henry. His diction is chaste and perspicuous, and though it bears all the marks of careful elaboration it has no trace of stiffness or pedantry. His verse is so smooth, and at times so delicately musical, that Warton questioned whether in these qualities at least our versification has advanced since Surrey tuned it for the first time.
Without the learning of Wyatt, his literary skill is far greater. His taste is exquisite. His love poetry, which is distinguished by touches of genuine feeling, is modelled for the most part on the Sonnetti and Ballate of Petrarch, though it has little of Petrarch's frigid puerility and none of his metaphysical extravagance. The Laura of Surrey is the fair Geraldine. We may perhaps suspect the existence of some less shadowy object. As a lyrical poet, when he permits himself to follow his own bent he is easy and graceful. His elegiac verses and his epitaph on Clere have been deservedly praised for their pathos, dignity, and terseness, and his translation from Martial makes us regret that he has not left us more in the same vein. His versions from Virgil we are not inclined to rank so highly as Warton does, but they are interesting as being the first English versions from the poets of antiquity worthy of the name, and as furnishing us with the earliest specimens of that verse which was to become the omnipotent instrument of Shakespeare and Milton.
As a sonneteer he follows closely in the footsteps of Petrarch, though he is not, like Wyatt, a servile copyist, and he is entitled to the high praise not only of being the first who introduced the sonnet into our language, but of having made that difficult form of composition the obedient interpreter of a poet's feelings and of a poet's fancies.
His most unsuccessful pieces are his Scriptural paraphrases and the poems written in Alexandrines, though one of these, "The Complaint of a Dying Lover", is valuable as being, after Henryson's "Robine and Makyne", the first pastoral poem in British literature.[3]
Recognition
Edit
Three of his poems ("Description of Spring," "Complaint of the Absence of Her Lover being upon the Sea," and "The Means to attain Happy Life") were included in the Oxford Book of English Verse, 1250-1900.[4]
Publications
Edit
Songes and Sonnettes. London: Richard Tottell, 1567; London: E. Curll, 1717.
Poems of Henry Howard, Earl of Surrey, who flourish'd in the reign of Henry the Eight ...: With the poems of Sir Thomas Wiat, and others his famous contemporaries. London: W. Meares & J. Brown, 1717.
Poems. London: William Pickering, 1831.
Poetical Works of Henry Howard, Earl of Surrey, minor contemporaneous poets, and Thomas Sackville, Lord Buckhurst (edited by Robert Bell). London: John W. Parker, 1854.
The poetical works of Henry Howard, earl of Surrey: With a memoir (edited by Catherine Barstow). Boston: Little, Brown, 1854.
The Poems of Henry Howard, Earl of Surrey (edited by James Yeowell). London: Bell & Daldy, 1866.
The Poems of Henry Howard Earl of Surrey (edited by Frederick Morgan Padelford). Seattle: University of Washington Press, 1920 & 1928.[5]
Poems, Appreciations (edited by Emrys Maldwyn Jones). Oxford, UK: Clarendon Press, 1964.
Translated
Edit
Collected editions
Edit
The Works of Henry Howard, Earl of Surrey, and of Sir Thomas Wyatt, the Elder (edited by George Frederick Nott). (2 volumes), London: Longman, Hurst, Rees, Orme, and Brown, 1815; New York: AMS Press, 1965. Volume I, Volume II

Except where noted, bibliographical information courtesy WorldCat.[6]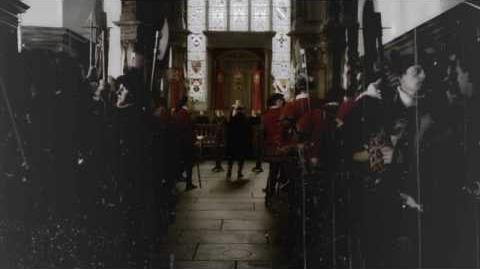 References
Edit
External links
Edit
Poems
Audio / video
About
Etc.
Ad blocker interference detected!
Wikia is a free-to-use site that makes money from advertising. We have a modified experience for viewers using ad blockers

Wikia is not accessible if you've made further modifications. Remove the custom ad blocker rule(s) and the page will load as expected.