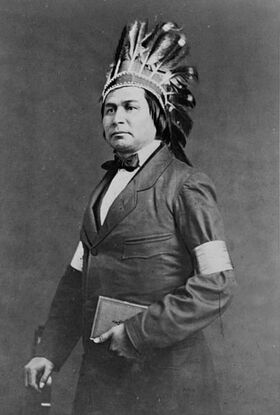 George Copway (1818 - January 1869) was a Mississaugas Ojibwa writer, lecturer, and advocate of Native Americans. His Ojibwa name was Kah-Ge-Ga-Gah-Bowh (Gaagigegaabaw in the Fiero orthography), meaning "He Who Stands Forever."
Copway was born near Trenton, Ontario, into a traditional Ojibwa family who later converted to Methodism. After conversion, he attended the local mission school and eventually became a missionary for the Methodist church.
In 1840, he met Englishwoman Elizabeth Howell, whose family were farmers in the Toronto area. They married and moved to Minnesota to serve as missionaries. The couple later returned to Canada, where Copway served as a missionary for the Saugeen and Rice Lake Bands of the Ojibwa. In 1846, he was accused and convicted of embezzlement and was defrocked by the Methodists.
He then left Canada for New York City and wrote The Life, History and Travels of Kah-ge-ga-gah-Bowh (1847), the first published book by a Canadian First Nations person.
In 1851, he started his own weekly newspaper in New York City titled Copway's American Indian which ran for approximately three months. He died in Oka, Quebec.
Copway wrote down many details about the Ojibwa Nation. He dedicated a few chapters to the use of birch bark scrolls, the symbolic writing that was used, and the meaning of various symbols. These elaborate scrolls were used to remember songs, history, and ceremonies. The care and reproduction of these scrolls by a select few is given in great detail.(Citation needed) He is an original source for historic details of the 19th century that could have easily been forgotten with great changes over time.
Publications
Edit
The Ojibway Conquest: A tale of the northwest. New York: G.P. Putnam, 1850.
Non-fiction
Edit
The Life, History and Travels of Kah-ge-ga-gah-Bowh. Philadelphia: J. Harmstead, 1847

also published as Recollections of a Forest Life. London: C. Gilpin / Edinburgh: A. & C. Black / Dublin: J.B. Gilpin, 1850.

The Lectures of Kah-ge-ga-gah-bowh, (or G. Copway, the Indian chief,) at ... Tremont Temple. Boston: 1849.
Organization of a New Indian Territory, East of the Missouri River. New York: S.W. Benedict, 1850.
The Traditional History and Characteristic Sketches of the Ojibway Nation. London: C. Gilpin, 1850.
Running Sketches of Men and Places, in England, France, Germany, Belgium, and Scotland. New York: J.C. Riker, 1851.
Indian Life and Indian History. Boston: Albert Colby, 1858, 1860.
Collected editions
Edit
The Life, Letters, and Speeches of Kah-ge-ga-gah-Bowh, or G. Copway, a chief of the Ojibwa Nation. New York: S.W. Benedict, 1850

Except where noted, bibliographical information courtesy WorldCat.[1]
References
Edit
External links
Edit
Ad blocker interference detected!
Wikia is a free-to-use site that makes money from advertising. We have a modified experience for viewers using ad blockers

Wikia is not accessible if you've made further modifications. Remove the custom ad blocker rule(s) and the page will load as expected.