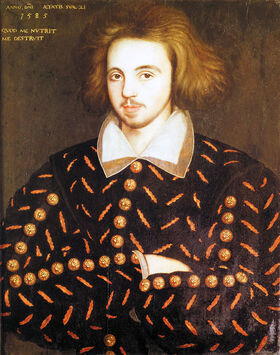 Christopher Marlowe[1] (baptised February 26, 1564 - died May 30, 1593) was an English poet, dramatist, and translator of the Elizabethan era. As the foremost Elizabethan tragedian,[2] next to William Shakespeare, he is known for his blank verse, his overreaching protagonists, and his mysterious death.
Marlowe was born in Canterbury to shoemaker John Marlowe and his wife Catherine. His date of birth is not known, but he was baptised in St. George's Church on 26 February 1564, and is likely to have been born a few days before. Thus he was just two months older than his contemporary Shakespeare, who was baptised on 26 April 1564 in Stratford-upon-Avon.St. George's was gutted by fire in the Baedeker raids and was demolished in the post-war period – only the tower is left, at the south end of Canterbury's High Street. [3]
Marlowe attended The King's School in Canterbury (where a house is now named after him) and Corpus Christi College, Cambridge, where he studied on a scholarship and received his Bachelor of Arts degree in 1584.[4] In 1587 the university hesitated to award him his master's degree because of a rumour that he had converted to Roman Catholicism and intended to go to the English college at Rheims to prepare for the priesthood. However, his degree was awarded on schedule when the Privy Council intervened on his behalf, commending him for his "faithful dealing" and "good service" to the Queen.[5] The nature of Marlowe's service was not specified by the Council, but its letter to the Cambridge authorities has provoked much speculation, notably the theory that Marlowe was operating as a secret agent working for Sir Francis Walsingham's intelligence service.[6] No direct evidence supports this theory, although the Council's letter is evidence that Marlowe had served the government in some secret capacity.
Literary career
Edit
Of the dramas attributed to Marlowe Dido, Queen of Carthage is believed to have been his first, and performed by the Children of the Chapel, a company of boy actors, between 1587 and 1593. The play was first published in 1594; the title page attributes the play to Marlowe and Thomas Nashe.
Marlowe's first play performed on the regular stage in London, in 1587, was Tamburlaine the Great, about the conqueror Timur, who rises from shepherd to warrior. It is among the first English plays in blank verse,[7] and, with Thomas Kyd's The Spanish Tragedy, generally is considered the beginning of the mature phase of the Elizabethan theatre. Tamburlaine was a success, and was followed with Tamburlaine the Great, Part II.
The two parts of Tamburlaine were published in 1590; all Marlowe's other works were published posthumously. The sequence of the writing of his other four plays is unknown; all deal with controversial themes.
The Jew of Malta, about a Maltese Jew's barbarous revenge against the city authorities, has a prologue delivered by a character representing Machiavelli. It was probably written in 1589 or 1590, and was first performed in 1592. It was a success, and remained popular for the next fifty years. The play was entered in the Stationers' Register on 17 May 1594, but the earliest surviving printed edition is from 1633.
Edward the Second is an English history play about the deposition of King Edward II by his barons and the Queen, who resent the undue influence the king's favourites have in court and state affairs. The play was entered into the Stationers' Register on 6 July 1593, five weeks after Marlowe's death. The full title of the earliest extant edition, of 1594, is "The Troublesome Reign and Lamentable Death of Edward the Second, King of England, with the Tragical Fall of Proud Mortimer." The play was first acted in 1592 or 1593.
The Massacre at Paris is a short and luridly written work, the only surviving text of which was probably a reconstruction from memory of the original performance text,[8] portraying the events of the Saint Bartholomew's Day Massacre in 1572, which English Protestants invoked as the blackest example of Catholic treachery. It features the silent "English Agent", whom subsequent tradition has identified with Marlowe himself and his connections to the secret service.[9] The Massacre at Paris is considered his most dangerous play, as agitators in London seized on its theme to advocate the murders of refugees from the low countries and, indeed, it warns Elizabeth I of this possibility in its last scene.[10][11]
The Tragical History of Doctor Faustus, based on the German Faustbuch, was the first dramatised version of the Faust legend of a scholar's dealing with the devil. While versions of "The Devil's Pact" can be traced back to the 4th century, Marlowe deviates significantly by having his hero unable to "burn his books" or repent to a merciful God in order to have his contract annulled at the end of the play. Marlowe's protagonist is instead torn apart by demons and dragged off screaming to hell. Dr Faustus is a textual problem for scholars as it was highly edited (and possibly censored) and rewritten after Marlowe's death. Two versions of the play exist: the 1604 quarto, also known as the A text, and the 1616 quarto or B text. Many scholars believe that the A text is more representative of Marlowe's original because it contains irregular character names and idiosyncratic spelling: the hallmarks of a text that used the author's handwritten manuscript, or "foul papers", as a major source.
Marlowe's plays were enormously successful, thanks in part, no doubt, to the imposing stage presence of Edward Alleyn. Alleyn was unusually tall for the time, and the haughty roles of Tamburlaine, Faustus, and Barabas were probably written especially for him. Marlowe's plays were the foundation of the repertoire of Alleyn's company, the Admiral's Men, throughout the 1590s.
Marlowe also wrote the poem Hero and Leander (published with a continuation by George Chapman in 1598), the popular lyric The Passionate Shepherd to His Love, and translations of Ovid's Amores and the first book of Lucan's Pharsalia. In 1599, his translation of Ovid was banned and copies publicly burned as part of Archbishop John Whitgift]]'s crackdown on offensive material.
As with other writers of the period, little is known about Marlowe. What little evidence there is can be found in legal records and other official documents. This has not stopped writers of both fiction and non-fiction from speculating about his activities and character. Marlowe has often been described as a spy, a brawler, a heretic and a homosexual, as well as a "magician", "duellist", "tobacco-user", "counterfeiter" and "rakehell". J. A. Downie and Constance Kuriyama have argued against the more lurid speculation,[12] but J.B. Steane[13] remarked, "it seems absurd to dismiss all of these Elizabethan rumours and accusations as 'the Marlowe myth'".[14]
Marlowe is often alleged to have been a government spy (Park Honan's 2005 biography even had "Spy" in its title [15]) The author Charles Nicholl speculates this was the case and suggests that Marlowe's recruitment took place when he was at Cambridge. As noted above, in 1587 the Privy Council ordered Cambridge University to award Marlowe his MA, denying rumours that he intended to go to the English Catholic college in Rheims, saying instead that he had been engaged in unspecified "affaires" on "matters touching the benefit of his country".[16] Surviving college records from the period also indicate that Marlowe had had a series of unusually lengthy absences from the university - much longer than permitted by university regulations - that began in the academic year 1584-1585. Surviving college buttery (dining room) accounts indicate he began spending lavishly on food and drink during the periods he was in attendance[17] - more than he could have afforded on his known scholarship income.
It has sometimes been theorised that Marlowe was the "Morley" who was tutor to Arbella Stuart in 1589.[18] This possibility was first raised in a TLS letter by E. St John Brooks in 1937; in a letter to Notes and Queries, John Baker has added that only Marlowe could be Arbella's tutor due to the absence of any other known "Morley" from the period with an MA and not otherwise occupied.[19] If Marlowe was Arbella's tutor, (and some biographers think that the "Morley" in question may have been a brother of the musician Thomas Morley[20]) it might indicate that he was a spy, since Arbella, niece of Mary, Queen of Scots, and cousin of James VI of Scotland, later James I of England, was at the time a strong candidate for the succession to Elizabeth's throne.[21]
In 1592 Marlowe was arrested in the town of Flushing in the Netherlands for his alleged involvement in the counterfeiting of coins, presumably related to the activities of seditious Catholics. He was sent to be dealt with by the Lord Treasurer (Burghley) but no charge or imprisonment resulted.[22] This arrest may have disrupted another of Marlowe's spying missions: perhaps by giving the resulting coinage to the Catholic cause he was to infiltrate the followers of the active Catholic plotter William Stanley and report back to Burghley.[23]
Marlowe was reputed to be an atheist, which, at that time, held the dangerous implication of being an enemy of God.[24] Some modern historians, however, consider that his professed atheism, as with his supposed Catholicism, may have been no more than an elaborate and sustained pretence adopted to further his work as a government spy.[25] Contemporary evidence comes from Marlowe's accuser in Flushing, an informer called Richard Baines. The governor of Flushing had reported that each of the men had "of malice" accused the other of instigating the counterfeiting, and of intending to go over to the Catholic "enemy"; such an action was considered atheistic by the Protestants, who constituted the dominant religious faction in England at that time. Following Marlowe's arrest in 1593, Baines submitted to the authorities a "note containing the opinion of one Christopher Marly concerning his damnable judgment of religion, and scorn of God's word."[26] Baines attributes to Marlowe a total of eighteen items which "scoff at the pretensions of the Old and New Testament", such as: "Christ was a bastard and his mother dishonest [unchaste]", "the woman of Samaria and her sister were whores and that Christ knew them dishonestly"; and that "St. John the Evangelist was bedfellow to Christ and leaned always in his bosom"[27], and, "that he used him as the sinners of Sodom]]". He also implies that Marlowe had Catholic sympathies. Other passages are merely sceptical in tone: "he persuades men to atheism, willing them not to be afraid of bugbears and hobgoblins".[14]
The final paragraph of Baines' document reads:
These thinges, with many other shall by good & honest witnes be aproved to be his opinions and Comon Speeches, and that this Marlow doth not only hould them himself, but almost into every Company he Cometh he perswades men to Atheism willing them not to be afeard of bugbeares and hobgoblins, and vtterly scorning both god and his ministers as I Richard Baines will Justify & approue both by mine oth and the testimony of many honest men, and almost al men with whome he hath Conversed any time will testify the same, and as I think all men in Cristianity ought to indevor that the mouth of so dangerous a member may be stopped, he saith likewise that he hath quoted a number of Contrarieties oute of the Scripture which he hath giuen to some great men who in Convenient time shalbe named. When these thinges shalbe Called in question the witnes shalbe produced.[28]
Similar examples of Marlowe's statements were given by Thomas Kyd after his imprisonment and possible torture (see above);[29][30] both Kyd and Baines connect Marlowe with the mathematician Thomas Harriot and Walter Raleigh's circle. Another document[31] claimed at around the same time that "one Marlowe is able to show more sound reasons for Atheism than any divine in England is able to give to prove divinity, and that ... he hath read the Atheist lecture to Sir Walter Raleigh and others."[14]
Some critics believe that Marlowe sought to disseminate these views in his work and that he identified with his rebellious and iconoclastic protagonists.[32] However, plays had to be approved by the Master of the Revels before they could be performed, and the censorship of publications was under the control of the Archbishop of Canterbury. Presumably these authorities did not consider any of Marlowe's works to be unacceptable (apart from the Amores).
Sexuality
Edit
Like his contemporary William Shakespeare, Marlowe is sometimes described today as homosexual. The question of whether an Elizabethan was gay or homosexual in a modern sense is anachronistic; for the Elizabethans, what is often today termed homosexual or bisexual was more likely to be recognised as a sexual act, rather than an exclusive sexual orientation and identity.[33] Some scholars argue that the evidence is inconclusive and that the reports of Marlowe's homosexuality may simply be exaggerated rumours produced after his death. Richard Baines reported Marlowe as saying: "All they that love not Tobacco and Boys are fools". David Bevington and Eric Rasmussen describe Baines's evidence as "unreliable testimony" and make the comment: "These and other testimonials need to be discounted for their exaggeration and for their having been produced under legal circumstances we would regard as a witch-hunt".[34] One critic, J.B. Steane, remarked that he considers there to be "no evidence for Marlowe's homosexuality at all."[14] Other scholars,[35] however, point to homosexual themes in Marlowe's writing: in Hero and Leander, Marlowe writes of the male youth Leander, "in his looks were all that men desire"[36] and that when the youth swims to visit Hero at Sestos, the sea god Neptune becomes sexually excited, "imagining that Ganymede, displeas'd ... the lusty god embrac'd him, call'd him love ... and steal a kiss ... upon his breast, his thighs, and every limb ... [a]nd talk of love",[37] while the boy, naive and unaware of Greek love practices, said that, "You are deceiv'd, I am no woman, I ... Thereat smil'd Neptune."[38]
In early May 1593 several bills were posted about London threatening Protestant refugees from France and the Netherlands who had settled in the city. One of these, the "Dutch church libel,"[39] written in blank verse, contained allusions to several of Marlowe's plays and was signed, "Tamburlaine". On 11 May the Privy Council ordered the arrest of those responsible for the libels. The next day, Marlowe's colleague Thomas Kyd was arrested. Kyd's lodgings were searched and a fragment of a heretical tract was found. Kyd asserted that it had belonged to Marlowe, with whom he had been writing "in one chamber" some two years earlier.[40] At that time they had both been working for an aristocratic patron, probably Ferdinando Stanley, 5th Earl of Derby, Lord Strange.[41] A warrant for Marlowe's arrest was issued on 18 May, when the Privy Council apparently knew that he might be found staying with Thomas Walsingham, whose father was a first cousin of the late Sir Francis Walsingham, Elizabeth's principal secretary in the 1580s and a man more deeply involved in state espionage than any other member of the Privy Council.[42] Marlowe duly presented himself on 20 May but, there apparently being no Privy Council meeting on that day, was instructed to "give his daily attendance on their Lordships, until he shall be licensed to the contrary".[43] Ten days later, he was stabbed to death by Ingram Frizer. Whether the stabbing was connected to his arrest has never been resolved.[44]
Various accounts of Marlowe's death were current over the next few years. Francis Meres says Marlowe was "stabbed to death by a bawdy serving-man, a rival of his in his lewd love" as punishment for his "epicurism and atheism."[45] In 1917, in the Dictionary of National Biography, Sir Sidney Lee wrote that Marlowe was killed in a drunken fight, and this is still often stated as fact today.
The official account came to light only in 1925 when the scholar Leslie Hotson discovered the coroner's report of the inquest on Marlowe's death, held two days later on Friday 1 June 1593.[46] Marlowe had spent all day in a house inDeptford, London, owned by the widow Eleanor Bull, and together with three men: Frizer, Nicholas Skeres and Robert Poley. All three had been employed by one or other of the Walsinghams. Skeres and Poley had helped snare the conspirators in the Babington plot, and Frizer would later describe Thomas Walsingham as his "master" at that time,[47] although his role was probably more that of a financial or business agent as he was for Walsingham's wife Audrey a few years later.[48] These witnesses testified that Frizer and Marlowe had argued over the bill (now famously known as the 'Reckoning') exchanging "divers malicious words" while Frizer was sitting at a table between the other two and Marlowe was lying behind him on a couch. Marlowe snatched Frizer's dagger and wounded him on the head. In the ensuing struggle, according to the coroner's report, Marlowe was stabbed above the right eye, killing him instantly. The jury concluded that Frizer acted in self-defence, and within a month he was pardoned.
Marlowe was buried in an unmarked grave in the churchyard of St. Nicholas, Deptford immediately after the inquest, on 1 June 1593.
Marlowe's death is alleged by some to be an assassination for the following reasons:
The three men who were in the room with him when he died were all connected both to the state secret service and to the London underworld.[49] Frizer and Skeres also had a long record as loan sharks and con-men, as shown by court records. Bull's house also had "links to the government's spy network".[50]
Their story that they were on a day's pleasure outing to Deptford is alleged to be implausible. In fact, they spent the whole day together. Also, Robert Poley was carrying urgent and confidential despatches to the Queen, who was at her residence Nonsuch Palace in Surrey, but instead of delivering them, he spent the day with Marlowe and the other two, and didn't in fact hand them in until well over a week later, on 8 June.[51]
It seems too much of a coincidence that Marlowe's death occurred only a few days after his arrest, apparently for heresy.(Citation needed)
The manner of Marlowe's arrest is alleged to suggest causes more tangled than a simple charge of heresy would generally indicate. He was released in spite of prima facie evidence, and even though other accusations about him received within a few days, as described below, implicitly connected Sir Walter Raleigh and the Earl of Northumberland with the heresy. Thus, some contend it to be probable that the investigation was meant primarily as a warning to the politicians in the "School of Night", or that it was connected with a power struggle within the Privy Council itself.[52]
The various incidents that hint at a relationship with the Privy Council (see above), and by the fact that his patron was Thomas Walsingham, Sir FrancisTemplate:'s second cousin once removed, who had been actively involved in intelligence work.
For these reasons and others, Charles Nicholl (in his book The Reckoning on Marlowe's death) argues there was more to Marlowe's death than emerged at the inquest. There are different theories of some degree of probability. Since there are only written documents on which to base any conclusions, and since it is probable that the most crucial information about his death was never committed to writing at all, it is unlikely that the full circumstances of Marlowe's death will ever be known.
Critical introduction
Edit
by Andrew Cecil Bradley
Marlowe has one claim on our affection which everyone is ready to acknowledge; he died young. We think of him along with Chatterton and Burns, with Byron, Shelley, and Keats. And this is a fact of some importance for the estimate of his life and genius. His poetical career lasted only six or seven years, and he did not outlive his "hot days, when the mad blood's stirring."
An old ballad tells us that he acted at the Curtain theatre in Shoreditch and "brake his leg in one rude scene, When in his early age." If there is any truth in the last statement, we may suppose that Marlowe gave up acting and confined himself to authorship. He seems to have depended for his livelihood on his connection with the stage; and probably, like many of his fellows and friends, he lived in a free and even reckless way.
A more unusual characteristic of Marlowe's was his "atheism." No reliance can be placed on the details recorded on this subject; but it was apparently only his death that prevented judicial proceedings being taken against him on account of his opinions. The note on which these proceedings would have been founded was the work of one Bame, who thought that "all men in christianitei ought to endeavour that the mouth of so dangerous a member may be stopped," and was hanged at Tyburn about eighteen months afterwards. But other testimony points in the same direction; and a celebrated passage in Greene's Groatsworth of Wit would lead us to suppose that Marlowe was given to blatant profanities. Whatever his offences may have been — and there is nothing to make us think he was a bad-hearted man — he had no time to make men forget them. He was not thirty when he met his death.
The plan of the present volumes excludes selections from Marlowe's plays; but as his purely poetical works give but a one-sided idea of his genius, and as his importance in the history of literature depends mainly on his dramatic writings, some general reference must be made to them. Even if they had no enduring merits of their own, their effect upon Shakespeare — an effect which, to say nothing of Henry VI, is most clearly visible in Richard III — and their influence on the drama would preserve them from neglect. The nature of this influence may be seen by a glance at Marlowe's first play. On the one hand it stands at the opposite pole to the classic form of the drama as it is found in Seneca, a form which had been adopted in Gorboduc, and which some of the more learned writers attempted to nationalise. There is no Chorus in Tamburlaine or in any of Marlowe's plays except Dr. Faustus; and the action takes place on the stage instead of being merely reported. On the other hand, in this, the first play in blank verse which was publicly acted, he called the audience
'From jigging veins of rhyming mother-wits,
And such conceits as clownage keeps in pay,'
and fixed the metre of his drama for ever as the metre of English tragedy. And, though neither here nor in Dr. Faustus could he yet afford to cast off all the conceits of clownage, he was in effect beginning to substitute works of art for the formless popular representations of the day. Doubtless it was only a beginning.
The two parts of Tamburlaine are not great tragedies. They are full of mere horror and glare. Of the essence of drama, a sustained and developed action, there is as yet very little; and what action there is proceeds almost entirely from the rising passion of a single character. Nor in the conception of this character has Marlowe quite freed himself from the defect of the popular plays, in which, naturally enough, personified virtues and vices often took the place of men. Still, if there is a touch of this defect in Tamburlaine, as in the Jew of Malta, it is no more than a touch. The ruling passion is conceived with an intensity, and portrayed with a sweep of imagination unknown before; a requisite for the drama hardly less important than the faculty of construction is attained, and the way is opened for those creations which are lifted above the common and yet are living flesh and blood.
It is the same with the language. For the buffoonery he partly displaced Marlowe substitutes a swelling diction, "high astounding terms," and some outrageous bombast, such as that which Shakespeare reproduced and put into the mouth of Pistol. But, laugh as we will, in this first of Marlowe's plays there is that incommunicable gift which means almost everything, style; a manner perfectly individual, and yet, at its best, free from eccentricity. The 'mighty line' of which Jonson spoke, and a pleasure, equal to Milton's, in resounding proper names, meet us in the very first scene; and in not a few passages passion, instead of vociferating, finds its natural expression, and we hear the fully-formed style, which in Marlowe's best writing is, to use his own words,
'Like his desire, lift upward and divine.'
"Lift upward" Marlowe's style was at first, and so it remained. It degenerates into violence, but never into softness. If it falters, the cause is not doubt or languor, but haste and want of care. It has the energy of youth; and a living poet has described this among its other qualities when he speaks of Marlowe as singing
'With mouth of gold, and morning in his eyes.'
As a dramatic instrument it developed with his growth and acquired variety. The stately monotone of Tamburlaine, in which the pause falls almost regularly at the end of the lines, gives place in Edward II to rhythms less suited to pure poetry, but far more rapid and flexible. In Dr. Faustus the great address to Helen is as different in metrical effect as it is in spirit from the last scene, where the words seem, like Faustus' heart, to "pant and quiver." Even in the Massacre at Paris, the worst of his plays, the style becomes unmistakeable in such passages as this:
  'Give me a look, that, when I bend the brows,
Pale Death may walk in furrows of my face;
A hand that with a grasp may gripe the world;
An ear to hear what my detractors say;
A royal seat, a sceptre, and a crown;
That those that do behold them may become
As men that stand and gaze against the sun.'
The expression "lift upward" applies also, in a sense, to most of the chief characters in the plays. Whatever else they may lack, they know nothing of half-heartedness or irresolution. A volcanic self-assertion, a complete absorption in some one desire, is their characteristic. That in creating such characters Marlowe was working in dark places, and that he develops them with all his energy, is certain. But that in so doing he shows (to refer to a current notion of him) a "hunger and thirst after unrighteousness," a desire, that is, which never has produced or could produce true poetry, is an idea which Hazlitt could not have really intended to convey.
Marlowe's works are tragedies. Their greatness lies not merely in the conception of an unhallowed lust, however gigantic, but in an insight into its tragic significance and tragic results; and there is as little food for a hunger after unrighteousness (if there be such a thing) in the appalling final scene of Dr. Faustus, or, indeed, in the melancholy of Mephistopheles, so grandly touched by Marlowe, as in the catastrophe of Richard III or of Goethe's Faust. It is true, again, that in the later acts of the Jew of Malta Barabas has become a mere monster; but for that very reason the character ceases to show Marlowe's peculiar genius, and Shakespeare himself has not portrayed the sensual lust after gold, and the touch of imagination which redeems it from insignificance, with such splendour as the opening speech of Marlowe's play.
Whatever faults however the earlier plays have, it is clear, if Edward II be one of his latest works, that Marlowe was rapidly outgrowing them. For in that play, to say nothing of the two great scenes to which Lamb gave such high praise, the interest is no longer confined to a single character, and there is the most decided advance both in construction and in the dialogue.
Of the weightier qualities of Marlowe's genius the extracts from his purely poetical works give but little idea; but just for that reason they testify to the variety of his powers. Everyone knows the verses "Come live with me, and be my love," with their pretty mixture of gold buckles and a belt of straw. This was a very popular song; Raleigh wrote an answer to it; and its flowing music has run in many a head beside Sir Hugh Evans's. But the shepherd would hardly be called "passionate" outside the Arcadia to which the lyric really belongs. Of the beautiful fragment in ottava rima nothing is known, except that it was first printed with Marlowe's name in England's Parnassus, 1600.
The translations of Lucan and Ovid (the former in blank verse) were perhaps early studies. It is curious that Marlowe should have set himself so thankless a task as a version of Lucan which literally gives line for line; but the choice of the author is characteristic. The translation of Ovid's Amores was burnt on account of its indecency in 1599, and it would have been no loss to the world if all the copies had perished. The interest of these translations is mainly historical. They testify to the passion for classical poetry, and in particular to that special fondness for Ovid of which the literature of the time affords many other proofs. The study of Virgil and Ovid was a far less mixed good for poetry than that of Seneca and Plautus; and it is perhaps worth noticing that Marlowe, who felt the charm of classical amatory verse, and whose knowledge of Virgil is shown in his Queen Dido, should have been the man who, more than any other, secured the theatre from the dominion of inferior classical dramas.
How fully he caught the inspiration, not indeed of the best classical poetry, but of that world of beauty which ancient literature seemed to disclose to the men of the Renascence, we can see in many parts of his writings, in Faust's address to Helen, in Gaveston's description of the sports at Court, in the opening of Queen Dido; but the fullest proof of it is the fragment of Hero and Leander. Beaumont wrote a Salmacis and Hermaphroditus, Shakespeare a Venus and Adonis, but both found their true vehicle in the drama. Marlowe's poem not only stands far above one of these tales, and perhaps above both, but it stands on a level with his plays; and it is hard to say what excellence he might not have reached in the field of narrative verse. The defect of his fragment, the intrusion of ingenious reflections and of those conceits with one of which our selection unhappily terminates, was the fault of his time; its merit is Marlowe's own. It was suggested indeed by the short poem of the Pseudo-Musaeus, an Alexandrian grammarian who probably wrote about the end of the fifth century after Christ, and appears to have been translated into English shortly before 1589; but it is in essence original.
Written in the so-called heroic verse, it bears no resemblance to any other poem in that metre composed before, nor, perhaps, is there any written since which decidedly recalls it, unless it be Endymion. "Pagan" it is in a sense, with the Paganism of the Renascence: the more pagan the better, considering the subject. Nothing of the deeper thought of the time, no "looking before and after," no worship of a Gloriana or hostility to an Acrasia, interferes with its frank acceptance of sensuous beauty and joy. In this, in spite of much resemblance, it differs from Endymion, the spirit of which is not fruition but unsatisfied longing, and in which the vision of a vague and lovelier ideal is always turning the enjoyment of the moment into gloom. On the other hand, a further likeness to Keats may perhaps be traced in the pictorial quality of Marlowe's descriptions. His power does not lie in catching in the aspect of objects or scenes those deeper suggestions which appeal to an imagination stored with human experience as well as sensitive to colour and form; for this power does not necessarily result in what we call pictorial writing; but his soul seems to be in his eyes, and he renders the beauty which appeals directly to sense as vividly as he apprehends it.
Nor is this the case with the description of objects alone. The same complete absorption of imagination in sense appears in Marlowe's account of the visit to Hero's tower. This passage is in a high degree voluptuous, but it is not prurient. For prurience is the sign of an unsatisfied imagination, which, being unable to present its object adequately, appeals to extraneous and unpoetic feelings. But Marlowe's imagination is completely satisfied; and therefore, though he has not a high theme (for it is a mere sensuous joy that is described, and there is next to no real emotion in the matter), he is able to make fine poetry of it. Of the metrical qualities of the poem there can be but one opinion. Shakespeare himself, who quoted a line of it, 1 never reached in his own narrative verse a music so spontaneous and rich, a music to which Marlowe might have applied his own words—
'That calls my soul from forth his living seat
To move unto the measures of delight.'
Marlowe had many of the makings of a great poet: a capacity for Titanic conceptions which might with time have become Olympian; an imaginative vision which was already intense and must have deepened and widened; the gift of style and of making words sing; and a time to live in such as no other generation of English poets has known. It is easy to reckon his failings. His range of perception into life and character was contracted: of comic power he shows hardly a trace, and it is incredible that he should have written the Jack Cade scenes of Henry VI; no humour or tenderness relieves his pathos; there is not any female character in his plays whom we remember with much interest; and it is not clear that he could have produced songs of the first order. But it is only Shakespeare who can do everything; and Shakespeare did not die at twenty-nine. That Marlowe must have stood nearer to him than any other dramatic poet of that time, or perhaps of any later time, is probably the verdict of nearly all students of the drama. His immediate successors knew well what was lost in him; and from the days of Peele, Jonson, Drayton, and Chapman, to our own, the poets have done more than common honour to his memory.[53]
Recognition
Edit
Marlowe is commemorated by the name of Canterbury's main theatre, the Marlowe Theatre, and by the town museums.
His poem "The Passionate Shepherd to His Love" was included in the Oxford Book of English Verse, 1250-1900.[54]
A memorial panel to Marlow in the window of Poets' Corner, Westminster Abbey, was unveiled on 11 July 2002.[55]
Literary reputation
Edit
Whatever the particular focus of modern critics, biographers and novelists, for his contemporaries in the literary world, Marlowe was above all an admired and influential artist. Within weeks of his death, George Peele remembered him as "Marley, the Muses' darling"; Michael Drayton noted that he "Had in him those brave translunary things / That the first poets had", and Ben Jonson wrote of "Marlowe's mighty line". Thomas Nashe wrote warmly of his friend, "poor deceased Kit Marlowe". So too did the publisher Edward Blount, in the dedication of Hero and Leander to Sir Thomas Walsingham.
Among the few contemporary dramatists to say anything negative about Marlowe was the anonymous author of the Cambridge University play The Return From Parnassus (1598) who wrote, "Pity it is that wit so ill should dwell, / Wit lent from heaven, but vices sent from hell."
The most famous tribute to Marlowe was paid by Shakespeare in As You Like It, where he not only quotes a line from Hero and Leander (Dead Shepherd, now I find thy saw of might, "Who ever loved that loved not at first sight?") but also gives to the clown Touchstone the words "When a man's verses cannot be understood, nor a man's good wit seconded with the forward child, understanding, it strikes a man more dead than a great reckoning in a little room." This appears to be a reference to Marlowe's murder which involved a fight over the "reckoning", the bill, as well as to a line in Marlowe's Jew of Malta – "Infinite riches in a little room".
Shakespeare was heavily influenced by Marlowe in his work, as can be seen in the re-using of Marlovian themes in Antony and Cleopatra, The Merchant of Venice, Richard II, and Macbeth (Dido, Jew of Malta, Edward II and Dr Faustus respectively). In Hamlet, after meeting with the travelling actors, Hamlet requests the Player perform a speech about the Trojan War, which at 2.2.429-32 has an echo of Marlowe's Dido, Queen of Carthage. In Love's Labour's Lost Shakespeare brings on a character "Marcade" (three syllables) in conscious acknowledgement of Marlowe's character "Mercury", also attending the King of Navarre, in Massacre at Paris. The significance, to those of Shakespeare's audience who had read Hero and Leander, was Marlowe's identification of himself with the god Mercury.[56]
Shakespeare controversy
Edit
Main article: Marlovian theory
Given the murky inconsistencies concerning the account of Marlowe's death, a theory has arisen centered on the notion that Marlowe may have faked his death and then continued to write under the assumed name of William Shakespeare. However, academic consensus rejects alternative candidates for authorship, including Marlowe.[57]
Fictional works about Marlowe
Edit
Publications
Edit
Translated
Edit
Certaine of Ouides Elegies, in Epigrammes and Elegies (by Marlowe and John Davies). Middlebourgh [i.e. London]: [1595?]

enlarged as All Ouids Elegies. Middlebourgh [i.e. London]: after 1602.

Lucans First Booke Translated Line for Line. London: Printed by P. Short, sold by W. Burre, 1600.
Collected editions
Edit
Complete Plays and Poems (edited by E.D. Pendry & J.C. Maxwell). London: Dent, 1976.
The Complete Works, revised edition (edited by Fredson Bowers). (2 volumes), Cambridge, UK: Cambridge University Press, 1981.
The Complete Works (edited by Roma Gill). (1 volume to date), Oxford: Oxford University Press, 1987.

Except where noted, bibliographical information courtesy the Poetry Foundation.[58]
Poems by Christopher Marlowe
Edit
References
Edit
Brooke, C.F. Tucker. The Life of Marlowe and "The Tragedy of Dido, Queen of Carthage." London: Methuen, 1930. (pp. 107, 114, 99, 98)
Bevington, David and Eric Rasmussen, Doctor Faustus and Other Plays, OUP, 1998; ISBN 0-19-283445-2
Burgess, Anthony, A Dead Man in Deptford, Carroll & Graf, 2003. (novel about Marlowe based on the version of events in The Reckoning) ISBN 0-7867-1152-3
Marlow, Christopher. Complete Works. Vol. 3: Edward II. Ed. R. Rowland. Oxford: Clarendon Press, 1994. (pp. xxii-xxiii)
Downie, J. A. and J. T. Parnell, eds., Constructing Christopher Marlowe, Cambridge 2000. ISBN 0-521-57255-X
Honan, Park. Christopher Marlowe Poet and Spy Oxford University Press, 2005 ISBN 0-19-818695-9
Kuriyama, Constance. Christopher Marlowe: A Renaissance Life. Cornell University Press, 2002. ISBN 0-8014-3978-7
Logan, Robert A. Shakespeare's Marlowe: The Influence of Christopher Marlowe on Shakespeare's Artistry. Aldershot, Hants: Ashgate, 2007. ISBN 978-7546-5763-7
Nicholl, Charles. The Reckoning: The Murder of Christopher Marlowe, Vintage, 2002 (revised edition) ISBN 0-09-943747-3
Parker, John. The Aesthetics of Antichrist: From Christian Drama to Christopher Marlowe. Cornell University Press, 2007. ISBN 978-0-8014-4519-4
Riggs, David. "The World of Christopher Marlowe", Henry Holt and Co., 2005 ISBN 0-8050-8036-8
Shepard, Alan. "Marlowe's Soldiers: Rhetorics of Masculinity in the Age of the Armada", Ashgate, 2002. ISBN 0-7546-0229-X
Trow, M. J. Who Killed Kit Marlowe?, Sutton, 2002; ISBN 0-7509-2963-4
Ule, Louis. Christopher Marlowe (1564-1607): A Biography, Carlton Press, 1996. ISBN 0-8062-5028-3
Welsh, Louise. "Tamburlaine Must Die", novella based on the build up to Marlowe's death.
Wraight, A.D. and Virginia F. Stern, In Search of Christopher Marlowe: A Pictorial Biography, Macdonald, London 1965
</dl>
External links
Edit
Poems
Books
Audio
About
Etc.
Ad blocker interference detected!
Wikia is a free-to-use site that makes money from advertising. We have a modified experience for viewers using ad blockers

Wikia is not accessible if you've made further modifications. Remove the custom ad blocker rule(s) and the page will load as expected.