Carl Sandburg (January 6, 1878 - July 22, 1967) was an American poet, prose writer, and editor. He won the Pulitzer Prize twice for poetry, plus a third Pulitzer for his biography of Abraham Lincoln. H.L. Mencken called Sandburg "indubitably an American in every pulse-beat."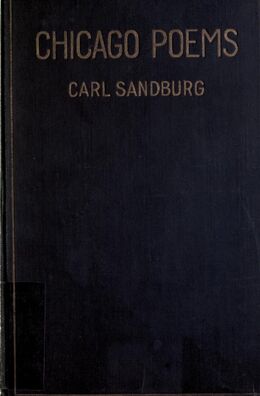 Sandburg was born in Galesburg, Illinois, to parents of Swedish ancestry. At the age of 13 he left school and began driving a milk wagon. He then became a bricklayer and a farm laborer on the wheat plains of Kansas.[1] After an interval spent at Lombard College in Galesburg,[2] he became a hotel servant in Denver, then a coal-heaver in Omaha. He began his writing career as a journalist for the Chicago Daily News. Later he wrote poetry, history, biographies, novels, children's literature, and film reviews. Sandburg also collected and edited books of ballads and folklore. He spent most of his life in the Midwest before moving to North Carolina.
Sandburg volunteered to go to the military and was stationed in Puerto Rico with the 6th Illinois Infantry during the Spanish-American War, disembarking at Guenica, Puerto Rico, on July 25, 1898. Sandburg was never actually called to battle. He attended the United States Military Academy at West Point for just two weeks, before failing a mathematics and grammar exam. Sandburg returned to Galesburg and entered Lombard College, but left without a degree in 1903.
He moved to Milwaukee, Wisconsin, and joined the Social Democratic Party, the name by which the Socialist Party of America was known in the state. Sandburg served as a secretary to Emil Seidel, socialist mayor of Milwaukee from 1910 to 1912.
Sandburg met Lilian Steichen at the Milwaukee Social Democratic Party office in December 1907. She was a teacher in Princeton, Illinois and they exchanged letters daily, fell in love, and were married in Milwaukee in June 1908. Lilian's brother was the photographer Edward Steichen. They remained in Wisconsin until May 1912.
Sandburg moved to Chicago, Illinois in 1912, and his "Chicago Poems" were published there in 1914 by Poetry Magazine. In his famous poem, "Chicago", Sandburg called the city "Hog Butcher of the World, City of the Big Shoulders." In 1915 the Sandburg's moved with their first daughter, Margaret, to suburban Maywood, Illinois, where Sandburg's wrote his second book of poems, "Cornhuskers" (1918), winning a Pulitzer Special Citation (1919). Two more daughters, Janet and Helga, were born there. In September 1919 the Sandburg's moved to 331 S. York Street in Elmhurst, Illinois, where they lived until May, 1928. In Elmhurst, Sandburg wrote three children's books, Rootabaga Stories (1922), followed by Rootabaga Pigeons (1923), and Abe Lincoln Grows Up (1928). Sandburg also wrote Abraham Lincoln: The Prairie Years, a two volume biography (1926), The American Songbag (1927), and a book of poems Good Morning, America(1928). The family moved to Michigan in 1928. In Michigan, he wrote: "Abraham Lincoln: The War Years" (1939), for which he won the Pulitzer Prize in History in 1940.
The Sandburg family moved to an Flat Rock, North Carolina estate, Connemara, in 1945. Sandburg's book, "Complete Poems" (1950) won the Pulitzer Prize for Poetry in 1951. Sandburg lived there until his death in 1967.
Sandburg supported the civil rights movement, and contributed to the NAACP.
Much of Carl Sandburg's poetry, such as "Chicago", focused on Chicago, Illinois, where he spent time as a reporter for the Chicago Daily News and the Day Book. His most famous description of the city is as "Hog Butcher for the World/Tool Maker, Stacker of Wheat/Player with Railroads and the Nation's Freight Handler,/Stormy, Husky, Brawling, City of the Big Shoulders."
Sandburg is also remembered by generations of children for his Rootabaga Stories and Rootabaga Pigeons, a series of whimsical, sometimes melancholy stories he originally created for his own daughters. The Rootabaga Stories were born of Sandburg's desire for "American fairy tales" to match American childhood. He felt that the European stories involving royalty and knights were inappropriate, and so populated his stories with skyscrapers, trains, corn fairies and the "Five Marvelous Pretzels".
Quotations
Edit
There are some people who can receive a truth by no other way than to have their understanding shocked and insulted.

In Reckless Ecstasy (1904)
Yesterday is done. Tomorrow never comes. Today is here. If you don't know what to do, sit still and listen. You may hear something. Nobody knows.
We may pull apart the petals of a rose or make chemical analysis of its perfume, but the mystic beauty of its form and odor is still a secret, locked in to where we have no keys.
Back of every mistaken venture and defeat is the laughter of wisdom, if you listen. Every blunder behind us is giving a cheer for us, and only for those who were willing to fail are the dangers and splendors of life. To be a good loser is to learn how to win. I was sure there are ten men in me and I do not know or understand one of them. I could safely declare, I am an idealist. A Parisian cynic says "I believe in nothing. I am looking for clues." My statement would be : I believe in everything — I am only looking for proofs.

Incidentals (1904); this is sometimes paraphrased: "I am an idealist. I believe in everything — I am only looking for proofs."
I'm an idealist. I don't know where I'm going, but I'm on my way.
Under the summer roses
When the flagrant crimson
Lurks in the dusk
Of the wild red leaves,
Love, with little hands,
Comes and touches you
With a thousand memories,
And asks you
Beautiful, unanswerable questions.

"Under the Harvest Moon" (1916)
I am the people — the mob — the crowd — the mass.
Do you know that all the great work of the world is done through me?

"I Am the People, the Mob" (1916)
I want the respect of intelligent men but I will choose for myself the intelligent. I love art but I decide for myself what is art. I adore beauty but only my own soul shall tell me what is beauty. I worship God but I define and describe God for myself. I am an individual. The pleasure of my own heart shall be first to inform me when I have done good work.
Except where noted, quotes courtesy Wikiquote.[3]
Recognition
Edit
Sandburg earned the Pulitzer Prize in Poetry, twice, for his collections The Complete Poems of Carl Sandburg and Corn Husker, and in Nonfiction for his biography of Lincoln, Abraham Lincoln: The War Years.
He recorded excerpts from the biography and some of Lincoln's speeches for Caedmon Records in New York City in May 1957. He was awarded a Grammy Award in 1959 for Best Performance - Documentary Or Spoken Word (Other Than Comedy) for his recording of Aaron Copland's Lincoln Portrait with the New York Philharmonic.
Sandburg's home of 22 years in Flat Rock, Henderson County, North Carolina, is preserved by the National Park Service as the Carl Sandburg Home National Historic Site.
Carl Sandburg College is located in Sandburg's birthplace of Galesburg, Illinois.
Galesburg opened Sandburg Mall in 1974, named in honor of Sandburg.
Carl Sandburg's boyhood home in Galesburg is now operated by the Illinois Historic Preservation Agency as the Carl Sandburg State Historic Site. The site contains the cottage Sandburg was born in, a modern visitor's center, and small garden with a large stone called Remembrance Rock, under which he and his wife Lilian's ashes are buried.[5]
Carl Sandburg Village was a Chicago urban renewal project of the 1960s located in the Near North Side, Chicago. Financed by the city, it is located between Clark and LaSalle St. between Division Street and North Ave. Solomon & Cordwell, architects. In 1979, Carl Sandburg Village was converted to condominium ownership.
Elmhurst, Illinois, renamed the former Elmhurst Junior High School as 'Carl Sandburg Middle School,' in his honor in 1960. Sandburg spoke at the dedication ceremony. He resided at 331 S. York Street in Elmhurst from 1919 to 1930. The house was demolished and the site is a parking lot.[6]
In 1954, Carl Sandburg High School was dedicated in Orland Park, Illinois. Sandburg was in attendance, and stretched what was supposed to be a one hour event into several hours, regaling students with songs and stories. Years later, he returned to the school with no identification and, appearing to be a hobo, was thrown out by the principal. When he later returned with I.D., the embarrassed principal canceled the rest of the school day and held an assembly to honor the visit. (Citation needed)
In 1959, Carl Sandburg Junior High School was opened in Golden Valley, Minnesota. Sandburg attended the dedication of the school. In 1988 the name was changed to Sandburg Middle School servicing grades 6, 7, and 8. Originally built with a capacity for 1,800 students the school now has 1,100 students enrolled. Sandburg Middle school was one of the first schools in the state of Minnesota to offer accelerated learning programs for gifted students.
In December 1961, Carl Sandburg Elementary School was dedicated in San Bruno, California. Again, Sandburg came for the ceremonies and was clearly impressed with the faces of the young children, who gathered around him.[7] The school was closed in the 1980s, due to falling enrollments in the San Bruno Park School District.
Sandburg Halls is a student residence hall at the University of Wisconsin-Milwaukee. The building consists of 4 high rise towers with a total housing capacity of 2,700 students. It has an exterior plaque on Sandburg's roles as an organizer for the Social Democratic Party and as personal secretary to Emil Seidel, Milwaukee's first Socialist mayor. There are several other schools named after Sandburg in Illinois, including those in Wheaton, Orland Park, Springfield, Mundelein, and Joliet.
On January 6, 1978, the 100th anniversary of his birth, the United States Postal Service issued a commemorative stamp honoring Sandburg. The spare design consists of a profile originally drawn by his friend William A. Smith (1918-1989) in 1952, along with Sandburg's own distinctive autograph.[8]
Rare Book and Manuscript Library at the University of Illinois Urbana-Champaign possesses the Carl Sandburg collection and archives. The bulk of the collection was purchased directly from Carl Sandburg and his family, with many smaller collections having been donated by his family and purchased from outside sources.
Funded by the State of Illinois, Amtrak in October 2006 added a second train on the Chicago-Quincy (via Galesburg and Macomb) route. Called the Carl Sandburg, this new train joined the "Illinois Zephyr" on the Chicago-Quincy route.[9]
In Neshaminy School District of lower Bucks County resides the secondary institution Carl Sandburg Middle School. Located in the lobby is a finished split tree trunk with the quote engraved lengthwise horizontally:
"MAN IS BORN WITH RAINBOWS IN HIS HEART AND YOU'LL NEVER READ HIM UNLESS YOU CONSIDER RAINBOWS"
Another secondary school by the same name is located south of Alexandria, Virginia, and is part of the Fairfax County Public Schools School District.
Carl Sandburg Library first opened in Livonia, Michigan, on December 10, 1961. The name was recommended by the Library Commission as an example of an American author representing the best of literature of the Midwest. Carl Sandburg had taught at the University of Michigan for a time.[10] He also wrote the Fog
In popular culture
Edit
Sufjan Stevens's "Come on! Feel the Illinoise! Part I: The Columbian Exposition Part II: Carl Sandburg Visits Me in a Dream" (from Illinois).
Richard Armour's poem "Driving in a Fog; or Carl Sandburg Must Have Been a Pedestrian" published in the January 1953 Westways.
Sandburg's "Sometime they'll give a war and nobody will come" from The People, Yes was a slogan of the German peace movement. (Citation needed)
Bob Dylan's October 31, 1964 performance of "Talkin' World War III Blues".
"Prairie" is featured in The Song and The Slogan.
Dan Zanes's Parades and Panoramas: 25 Songs Collected by Carl Sandburg for the American Songbag.
"Grass" was covered by Bread and Roses on their 2004 demo The Workplace Is a Battlefield.
Peter Louis van Dijk's "Windy City Songs", based on the Chicago poems was performed by the Chicago Children's Choir and the Nelson Mandela Metropolitan University Choir in 2007. (Citation needed).
Andrew W.K.'s song "The McLaughlin Groove"
Steven Spielberg claimed that the face of E.T. was based on a composite of Sandburg, Ernest Hemingway, and Albert Einstein.[11]
Bob Gibson's "The Courtship of Carl Sandburg", starring Tom Amandes as Sandburg [12]
Sandburg's quote "Nothing happens unless first a dream.." is featured in the Bones 100th episode (Season 5, Episode 16) "The Parts in the Sum of the Whole".
Two July 1978 Peanuts comic strips feature Snoopy remarking on a resemblance between Sandburg's likeness on the postage stamp and tennis player Pancho Gonzales
Samuel M. Steward's gay pulp collection "$tud"'s protagonist refers to Sandburg in an ironic nod to his commentary on the "painted women of Chicago" (as Steward contrarily wrote of the "male whores" of Chicago). [13]
Publications
Edit
Main article: Carl Sandburg bibliography
In Reckless Ecstasy (as "Charles A. Sandburg"). Asgard Press, 1904.
The Plaint of a Rose (as "Charles A. Sandburg"). Asgard Press, 1905.
Incidentals (as "Charles A. Sandburg"). Asgard Press, 1905.
Chicago Poems. New York: Holt, 1916; Dover, 1994.
Cornhuskers. New York: Holt, 1918.
Smoke and Steel. Harcourt, Brace & Howe, 1920.
Slabs of the Sunburnt West. Harcourt, Brace, 1922.
Selected Poems (edited by Rebecca West). Harcourt, Brace, 1926.
Songs of America. Harcourt, Brace, 1926.
Good Morning, America. Harcourt, Brace, 1928.
M'Liss and Louie. Los Angeles: J. Zeitlin, 1929.
Early Moon. Harcourt, Brace, 1930.
The People, Yes. Harcourt, Brace, 1936.
Smoke and Steel / Slabs of the Sunburnt West. Harcourt, Brace, 1938.
Bronze Wood. Grabhorn Press, 1941.
Smoke and Steel / Slabs of the Sunburnt West / Good Morning, America (omnibus volume). Harcourt, Brace, 1942.
Poems of the Midwest. (2 volumes), World Publishing, 1946.
Complete Poems. Harcourt, Brace, 1950

revised & enlarged as The Complete Poems of Carl Sandburg, 1970.

The Sandburg Range. Harcourt, Brace, 1957.
Chicago Dynamic. Harcourt, Brace, 1957.
The Fiery Trial. Dell, 1959.
Harvest Poems, 1910-1960. Harcourt, Brace, 1960.
Wind Song. Harcourt, Brace, 1960.
Six New Poems and a Parable. privately printed, 1960.
Honey and Salt. Harcourt, Brace & World, 1963.
Seven Poems (with original etchings by Gregory Masurovsky). Associated American Artists, 1970.
Breathing Tokens (edited by daughter Margaret Sandburg). Harcourt, 1978.
Fables, Foibles and Foobles' (edited by George Hendrick). University of Illinois Press, 1988.
Arithmetic. Harcourt, 1993.
Billy Sunday, and other poems. Harcourt, 1993.
Selected Poems (edited by George & Willene Hendrick). Harcourt, 1996.
Remembrance Rock. Harcourt, Brace, 1948.
Non-fiction
Edit
Joseffy (promotional biography, commissioned by a travelling magician; as "Charles Sandburg"). Asgard Press, 1910.
You and Your Job (as "Charles A. Sandburg). [Chicago], ca. 1906.
The Chicago Race Riots, July 1919 (with introduction by Walter Lippmann). Harcourt, Brace & Howe, 1919,

(with new introduction), 1969.

Abraham Lincoln: The prairie years. Harcourt, Brace, 1927.
Abe Lincoln Grows Up. Harcourt, Brace, 1928.
Steichen, the Photographer. Harcourt, Brace, 1929.
Mary Lincoln: Wife and widow (with Paul M. Angle). Harcourt, Brace, 1932

reprinted, Applewood, 1995. (biography)

A Lincoln and Whitman Miscellany. Holiday Press, 1938.
Abraham Lincoln: The war years. (4 volumes), Harcourt, Brace, 1939.
Abraham Lincoln: The Sangamon edition (six volumes). Scribner, 1940.
Storm Over the Land. Harcourt, Brace, 1942.
Road to Victory (exhibition catalog; text by Sandburg; images compiled by Edward Steichen). Museum of Modern Art, 1942.
Home Front Memo. Harcourt, Brace, 1943.
Photographs of Abraham Lincoln (with Frederick Hill Meserve). Harcourt, Brace, 1944.
The Lincoln Reader: An appreciation. privately published, 1947.
Lincoln Collector: The story of Oliver R. Barrett's great private collection. Harcourt, Brace, 1949.
Always the Young Strangers (autobiography). Harcourt, Brace, 1952.
A Lincoln Preface. Harcourt, Brace, 1953.
Abraham Lincoln: The Prairie Years and the War Years. Harcourt, 1954, 1974.

illustrated edition (with introduction by Alan Axelrod), 2007.

Prairie Town Boy. Harcourt, Brace, 1955.
The Family of Man (exhibition catalog; introduction; images compiled by Edward Steichen), 1955.
Address Before a Joint Session of Congress, February 12, 1959. Harcourt, Brace, 1959

also published as Carl Sandburg on Abraham Lincoln. Cedar Rapids: 1959; & as Abraham Lincoln, 1809-1959. J. St. Onge, 1959.

Abraham Lincoln (condensation of earlier work). (3 volumes), Dell, 1959.
Address Upon the Occasion of Abraham Lincoln's One Hundredth Inaugural Anniversary. Black Cat Books, 1961.
Ever the Winds of Chance (edited by Margaret Sandburg and George Hendrick). University of Illinois Press, 1983.
Carl Sandburg at the Movies: A poet in the silent era, 1920-1927 (reviews of silent movies; collected & edited by Dale Fetherling & Doug Fetherling), 1985.
Juvenile
Edit
Carl Sandburg (edited by Frances S. Bolin; illustrated by Steve Arcella, Sterling), 1995.
Poetry for Young People. Sterling, 1995.
Grassroots. Browndeer, 1997.
Poems for children nowhere near old enough to vote (compiled & with introduction by George & Willene Hendrick), 1999.
Rootabaga Stories. Harcourt, Brace, 1922,

(illustrated by Maud Fuller Petersham and Miska Petersham). Barefoot Books, 1994.

Rootabaga Pigeons. Harcourt, Brace, 1923.
Rootabaga Country: Selections from 'Rootabaga Stories' and 'Rootabaga Pigeons'. Harcourt, Brace, 1929.
Potato Face. Harcourt, Brace, 1930.
The Wedding Procession of the Rag Doll and the Broom Handle and Who Was in It (chapter of Rootabaga Stories). Harcourt, Brace & World, 1967.
More Rootabagas. Knopf, 1993.
Collected
Edit
A Sandburg Treasury: Prose & Poetry for Young People. Harcourt, 1970.
The American Songbag. Harcourt, Brace, 1927.
Carl Sandburg's New American Songbag. Broadcast Music, Inc., 1950.
The Letters of Carl Sandburg (edited by Herbert Mitgang). Harcourt, 1968.

Except where noted, bibliographical information courtesy the Poetry Foundation .[14]
Poems by Carl Sandburg
Edit
References
Edit
External links
Edit
Poems
Quotes
Books
Audio/video
About
Etc.