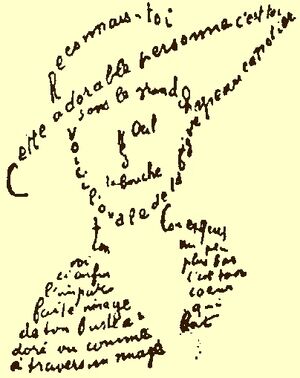 A calligram is a poem, phrase, or word in which the typeface, calligraphy or handwriting is arranged in a way that creates a visual image. The image created by the words expresses visually what the word, or words, say. In a poem, it manifests visually the theme presented by the text of the poem. Guillaume Apollinaire was a famous calligram writer and author of a book of poems called Calligrammes. His poem written in the form of the Eiffel Tower is an example of a calligram.
References
Edit
Sonja A.J. Neef: Kalligramme. Zur Medialität einer Schrift. Anhand von Paul van Ostaijens "De feesten van angst en pijn". Amsterdam: ASCA Press 2000 [1]
Deme, Zoltan: Poem-miniatures. In: Chords of Scales, Globe Publish House 1995. Library of Congress No: 2003278749 [2]
Post-War Japanese Poetry (with lots of Japanese calligrams), Penguin Books, 1972.
External links
Edit
Ad blocker interference detected!
Wikia is a free-to-use site that makes money from advertising. We have a modified experience for viewers using ad blockers

Wikia is not accessible if you've made further modifications. Remove the custom ad blocker rule(s) and the page will load as expected.