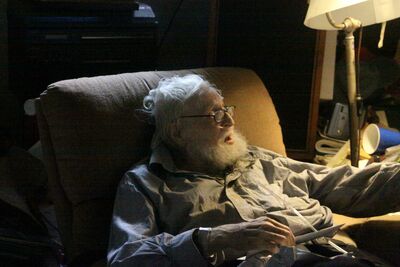 Bob Watt (1925 - January 2, 2012) was an American poet and artist.[1]
Watt was born in rural Wisconsin, one of 9 children. He was drafted in World War II and stationed after the war in Japan. In 1951, he came to Milwaukee and established himself as a counterculture poet. [1]
For a time he was writer in residence at the University of Milwaukee.[1]
In 1993 his house burned down, destroying 25 years' worth of poetry, art, collages, and vintage Playboy magazines. [2] Over 900 paintings were burned, in what the fire department described as the biggest house fire they'd seen.[3]
In recent years, much of his 'art' consisted of hiring female models, photographing them posing nude with his paintings, and making books of collages of the photographs.[2]
In 2000 he ran for mayor of Milwaukee, kicking off his campaign in front of the Hooters on Wisconsin Avenue.[2] He advocated opening nude beaches on Milwaukee's lakefront, and converting its jails into art and music schools.[4]
In 2008 he inspired a controversy in the Milwaukee art scene over his regular appearances at a local Christmas art show, dressed as Santa Claus and being photographed with nude female models..[5]
Quotation
Edit
""We need more ordinary Indians, some untalented people functioning. I feel I might be able to talk for the dull, the backward, the non-dandy, in short the bad poet. I ask equal time on your podium that you have now reserved for your favorite big stars."[1]
Publications
Edit
Anthologized
Edit

Except where noted, bibliographical information courtesy WorldCat.[9]
References
Edit
↑ 1.0 1.1 1.2 1.3 1.4 Matt Wild, "R.I.P. Bob Watt", A.V. Club Milwaukee, AVClub.com, Web, Jan. 8, 2012.
↑ 2.0 2.1 2.2 John Shimon and Julie Lindemann, "Bob Watt with telephone," ShimonLindemann.com, Web, Jan. 8 2012.
↑ Tom Tolan, "Art scene just a bit dimmer without Watt", Milwaukee Journal-Sentinel, January 8, 2012. JSOnline, Web, Feb. 23, 2013.
↑ Mary Louise Schumacher, "Pegi vs. Jimmy Round I," Art City, JSOnline/Tap, Web, Jan. 8, 2012.
↑ Inferior Poetry Paperback - 1970, Amazon.com. Web, Apr. 15, 2015.
↑ The Selling of Wild Women by Cats in Love: A Zen Master's Handbook, Antiques.Gift. Web, Apr. 15, 2015.
↑ Watt's Happening Paperback - 1972 Amazon.com. Web, Apr. 15, 2015.
↑ Search results = au:Bob Watt, WorldCat, OCLC Online Computer Library Center Inc. Web, Apr. 15, 2015.
External links
Edit
Poems
Audio / video
About
This is a signed article by User:George Dance. It may be edited for spelling errors or typos, but not for substantive content except by its author. If you have created a user name and verified your identity, provided you have set forth your credentials on your user page, you can add comments to the bottom of this article as peer review.