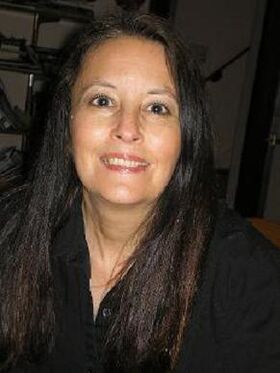 Template:Cleanup Anita Endrezze (born 1952) is an American poet, story writer, and artist.
Endrezze is half-Yaqui Indian and half European (Slovian, German-Romanian, and northern Italian).[1] She  was born in Long Beach, California. She graduated with an M.A. from Eastern Washington University. She lives in Everett, Washington, and is married with two children.
She works as a storyteller, artist, and teacher of university courses. Her work has been translated into seven languages, and published in ten countries. She has taken part in the Washington State Council for the Humanities Speakers' Series.[2][3]
Her paintings have been exhibited in Wales, England, Sweden, Denmark, and the United States. Several of her paintings appear on anthology book covers as well as on her own books.[4]
Her latest book, Throwing Fire at the Sun, Water at the Moon, is a "blend of ancient myths, poetry, journal extracts, short stories, and essays that tell her people's story" (University of Arizona Press catalogue) from creation to the present. The book is illustrated by her paintings. She received a grant from Artist Trust to aid her in researching Throwing Fire at the Sun, Water at the Moon. Lune D'Ambre, a book of her poems translated into French, and published in France by the distinguished house, Rogerie, and a book, The Humming of Stars and Bees and Waves, published in England by Making Waves Press joins her international publications, along with a children's novel, The Mountain and the Guardian Spirit, (CDForlag) in Danish. [5]
Recognition
Edit
Anita's book At the Helm of Twilight was the winner of the Washington Governor's Writers Award and the 1992 Bumbershoot/Weyerhaeuser Publication Award.
Publications
Edit
The North People. Marvin SD: Blue Cloud Quarterly Press, 1983.
Burning the Fields (chapbook). Lewiston, ID: Confluence Press, Lewis & Clark State College, 1983.
At the Helm of Twilight. Seattle, WA: Broken Moon Press, 1992.
Throwing Fire at the Sun, Water at the Moon. Tucson, AZ: University of Arizona Press (Sun Tracks, Vol. 40), 2000.
Short fiction
Edit
Butterfly Moon: Short stories. Tucson, AZ: University of Arizona Press, 2012.
Collected editions
Edit
The Humming of Stars and Bees and Waves: Poems and short stories. Guildford, UK: Making Waves, 1998.

Except where noted, bibliographical information courtesy WorldCat.[6]
Audio / video
Edit
Songmaker: An encounter with a poet, Anita Endrezze (VHS). Seattle, WA : Perspectives & Reality, 1995.[6]
References
Edit
External links
Edit
Poems
Art
Stories
About
Etc.
This article uses content from the Native Wiki. Original article is at Anita Endrezze.
Ad blocker interference detected!
Wikia is a free-to-use site that makes money from advertising. We have a modified experience for viewers using ad blockers

Wikia is not accessible if you've made further modifications. Remove the custom ad blocker rule(s) and the page will load as expected.