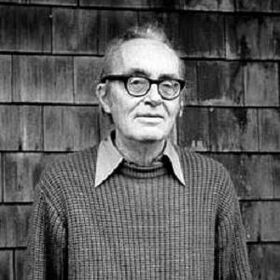 Alan Dugan (February 12, 1923 – September 3, 2003) was an American poet.[1][2]
Dugan grew up in Jamaica, Queens in New York City and served in World War II, experiences which entered his poetry though he avoided simple autobiography or confession. He later lived in Truro on Cape Cod in Massachusetts, where he directed the Fine Arts Work Center and was a mentor and teacher to younger poets for decades.
Dugan's work was published in successive numbered collections under the simple title Poems.
Alan Dugan was married to the artist Judith Shahn. He died of pneumonia at age 80.[3]
Since his death in 2003, a complete volume of collected poetry has yet to appear.
Recognition
Edit
His first volume, Poems (1961), was chosen by the Yale Series of Younger Poets and won the National Book Award and the Pulitzer Prize in Poetry. His last volume, entitled Poems Seven: New and Complete Poetry, was published in 2001 by Seven Stories Press in New York and won Dugan a second National Book Award. Dugan received many other awards and fellowships for his poetry, including:
Publications
Edit
General Prothalamion in Populous Times. privately printed, 1961.
Poems. New Haven, CT: Yale University Press, 1961

reprinted as Poems of Alan Dugan. New York: Atlantic.

Poems 2. New Haven, CT: Yale University Press, 1963.
Poems 3. New Haven, CT: Yale University Press, 1967.
Collected Poems (contains Poems, Poems 2, and Poems 3). New Haven, CT: Yale University Press, 1969.
Poems 4. Boston: Little, Brown, 1974.
Sequence (cover designed and silkscreen printed by Judith Shahn). Cambridge, MA: Dolphin Editions, 1976.
New and Collected Poems, 1961-1983. New York: Ecco Press, 1983.
Ten Years of Poems: From Alan Dugan's Workshop at Castle Hill Center for the Arts, Truro, Massachusetts (edited by Marion Conger et al.). Truro, MA: The Center, 1987.
Poems Six. New York: Ecco Press, 1989.
Poems Seven: New and Complete Poetry. New York: Seven Stories Press, 2001.

Except where noted, bibliographical information courtesy the Poetry Foundation.[4]
References
Edit
External links
Edit
Poems
Ad blocker interference detected!
Wikia is a free-to-use site that makes money from advertising. We have a modified experience for viewers using ad blockers

Wikia is not accessible if you've made further modifications. Remove the custom ad blocker rule(s) and the page will load as expected.